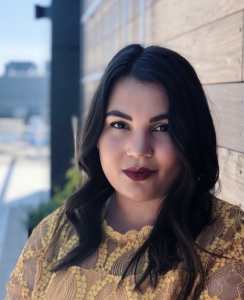 What was your first job in the realty industry? Right after college, I began my career in real estate at a small boutique brokerage in Ukrainian Village as an administrative assistant. From there, I worked my way up to becoming their marketing manager and later their content manager, overseeing and implementing marketing strategies for more than 40 brokers and their listings, as well as creating and designing the company website.
Where did you grow up? I'm originally from Vernon Hills, but later moved to Hawthorn Woods.
What is your favorite free-time activity? Enjoying the city. Chicago is a place where you can be anyone you want to be and do anything you want to do. You can experience everything: taking a stroll, appreciating street art, dining at a trendy restaurant. Each time you see a new part of the city. I love that.
What do you do to relax when you're stressed? Each morning is like a reset for me. I drink a cup of coffee while I snuggle in bed with my dog and browse online for ideas and inspiration. Not knowing what the day may bring and not worrying about yesterday, I always make sure to start my day off by feeling cool and collected.
Growing up, what did you want to be? Everything. Growing up I was constantly finding new things that interested me, leading me down paths toward marketing, interior design and even once psychology. I'm thankful to have found a career where I can be all of those things I once dreamed of.
If you could have lunch with a well-known figure (living or not), who would it be and why? Meghan Markle. A fellow biracial woman who is strong and successful and then became a princess. I'd hang out with her.
Where is your favorite place to hang out? I love enjoying some time at home with my friends and family. Sharing my home and food with the people I love is something I always look forward to, and if we're lucky, we'll host a movie day where we'll even pull out the air mattress. It's so much fun.
What do you love most about the industry? The look in people's eyes when they've found their home. There's nothing like that.
How do you distinguish yourself from the crowd of agents? I'm very authentic. Everything I do is genuine and from the heart.
What is the most difficult aspect of your job? I forget to shut off work sometimes, doing things like staying up late to run a CMA or missing a family party for showings. That's still a constant struggle for me.
Where do you go to network and meet new clients? While I host a monthly first-time homebuyer seminar, true networking isn't a part of my repertoire. I'm a "never met a stranger" type person, so I meet new people all the time or am being introduced to them through friends and former clients. Sometimes all it takes is a smile. You never know who wants to talk.
What has been your greatest accomplishment? Understanding how to constantly learn and grow is something I'm very proud of. Even though I'm quite young for the industry, I've been through a lot of hardships in my life, especially as a younger woman starting her own career. Being able to continually learn not only about the industry but also about myself has helped me grow KM into what it is today. It's made me into an incredible human being that I did not know I was capable of becoming.
What was the last good movie you saw or book you read? I finally watched "Guardians of the Galaxy." Yes, it came out in 2014.
What is your favorite restaurant? TWO is everything. Not only is it the place where I've shared meals with many friends and clients, but it's also the place where we ended the night of our wedding surrounded by our closest loved ones. To this day, it has not served a meal I have not liked.
Architecturally speaking, what is your favorite building in Chicago? You can't make me pick!
What kind of car do you drive? A white Lexus RX350, or as I like to call her: the Murray Mobile.
Smartphone or paper? iPhone, of course.
What is your favorite city after Chicago? Berlin. I love the history of the city juxtaposed with modern living.
In 10 words or less, what is your advice for someone new to the industry? Stop comparing yourself to other brokers. Be you.
What's your favorite Real Estate iPhone/Blackberry app? @properties provides us with enough technology that there really isn't another real estate app that I use, but I like using Hurdlr for tracking expenses and mileage. Come tax time, I never have to worry about a thing.
Who are your favorite people to follow on Twitter? I have to admit, Twitter isn't my go-to. As a more visual person, I'm drawn to Instagram. I really enjoy seeing all things homes, pets and street art.