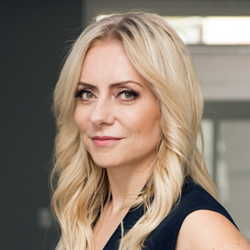 What was your first job in the realty industry? Working in insurance.
Where did you grow up? Poland.
Growing up, what did you want to be? A doctor.
What do you do to relax when you're stressed? Walk my doberman Max. It instantly puts me in a calm place.
If you could have lunch with a well-known figure (living or not), who would it be and why? Denzel Washington, because I love his speeches and he is a highly educated and interesting person.
Where is your favorite place to hang out? Home with my handsome pup Max.
What do you love most about the industry? The flexibility of schedule and the interaction with my clients. They're priceless.
How do you distinguish yourself from the crowd of agents? A mix of my strong negotiation skills and my ability to make long-lasting connections with my clients by making each one as a priority.
What is the most difficult aspect of your job? Figuring out what type of person/personality you are dealing with. The approach you take with each client is always going to be different. One type of communication may be ideal for one but not the other.
Where do you go to network and meet new clients? Events around the city of Chicago, as well as open houses with follow-ups afterwards.
What has been your greatest accomplishment? My greatest accomplishment is the fact that I'm healthy and alive.
What was the last good movie you saw or book you read? The best book I've read lately is "Ego is the Enemy" by Ryan Holiday.
What is your favorite restaurant? I love all food, but I'd have to say Momotaro. It's the best sushi in town!
Architecturally speaking, what is your favorite building in Chicago? 78 East Washington St. Anyone who hasn't been inside is missing out!
What kind of car do you drive? X5 BMW.
Smartphone or paper? Paper, always.
What is your favorite city after Chicago? Krakow, Poland.
In 10 words or less, what is your advice for someone new to the industry? Keep your database organized and backed up from day one!
What's your favorite real estate iPhone/Android app? Instagram.
Who are your favorite people to follow on Twitter? Chris Smith, Mel Robbins, Gary Vaynerchuk. All motivational people!