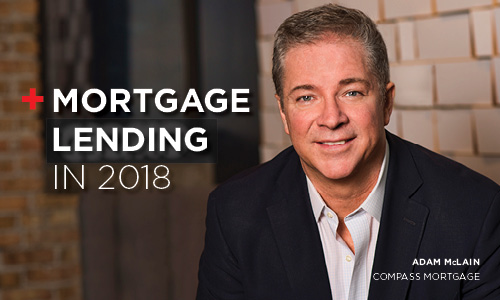 After years of historically low interest rates helped buoy the housing market across much of the country, 2018 is shaping up to be something of a change of pace for the mortgage lending industry. A booming economy will likely cause interest rates to creep up slightly, a move that may influence the homebuying plans of some Americans. And there's the question of what effect tax reform might have on the lending industry.
Despite the lingering question marks, the year is shaping up to be a good one for the housing market, and the mortgage lending industry as well. "The economy is cooking along," said Adam McLain, senior vice president of Compass Mortgage. "We've had an uptick in housing starts, which is good. You've got a lot of millennials out there, and they're just barely scratching the surface of homebuying. If you're a real estate agent, you should be salivating at the market."
From interest rates to tax reform and new technological advances, here are some of the factors that will shape mortgage lending in 2018 and beyond.
Rising interest rates?
Interest rates have been artificially held at historically low levels for awhile, but experts are predicting that the rates will finally move in 2018. The Mortgage Bankers Association predicted that rates will rise past 4 percent and could settle above 5 percent in the next year or two. Despite those predictions, 2018 began with mortgage rates inching down to 3.98 percent in the first week of the new year. Eight of the last 10 years have seen rates fall in the first week of the year, but that's not necessarily an indicator of where rates will end, Leonard Kiefer, deputy chief economist at Freddie Mac, said in a statement.
Where those rates end — and how they impact the market — are still a guessing game.
"People ask me if interest rates are going to go up or down and I always say 'yes,'" McLain says. "Interest rates move. When they move, I think it's a healthy market. When they stay low for a long time, I think that generally means it's not a healthy market. If interest rates have been artificially held down for so long, we only have one direction to go."
Steve DiMarco, president of Key Mortgage Services, agreed that interest rates are likely to go up, but it won't be enough to keep many people out of the homebuying market.
"There are two things that I wonder if they will offset it," he said. "The economy is robust. There's going to be competition among mortgage lenders for the business that's out there. That's a positive for the consumers. I don't think rising interest rates are going to be viewed as a negative to the consumer. I haven't heard anyone say that it's going to rise to a point that will turn off a homebuyer."
One tangible effect of the rising interest rates is that refinance business will drop in 2018. The MBA estimates a 30 percent drop in refinance business this year. Refinance business is largely cyclical, and it will rebound after a period of relatively higher interest rates, Mike Fratantoni, MBA chief economist and senior vice president of research and technology, said at its annual forum in October.
Mike Fauth, area lending manager of CitiMortgage — Chicago, resists the temptation to make predictions about the future of interest rates.
"One thing I've learned being in this industry for the last 23 years is that you can often expect the unexpected," he says. "There are many factors that affect mortgage interest rates in today's environment, not only domestic economic factors, but the global economy and world events impact the direction of interest rates."
With low national unemployment and some much-needed wage growth, slightly higher interest rates will likely not be a burden on many homebuyers. But there are other factors that could impact homebuying in the new year. A massive tax reform bill signed into law Dec. 22 included provisions that will have wide-ranging impacts on the housing industry, and thus the lending industry, too.
Tax reform
Two provisions in the tax bill will have an impact on the housing market: the capping of state and local tax deductions at $10,000, and the capping of the mortgage interest deduction at $750,000.
Exactly how the provisions will affect the industry remains to be seen, but experts agree that higher-end homebuyers will feel a pinch when taking out a mortgage for homes above $750,000.
"It will impact the high end," McLain says. "It will impact some areas of Chicago, for sure. Everyone is looking for loopholes. Investment properties might pick up a little bit. What they might not be getting in interest rate deductions they might be able to make up in owning an investment property. For middle America, I think it's going to be a non-issue."
Of course, upper-income earners will see savings in other areas of the tax bill, and those could be enough to offset the hit on their mortgages. "A broad-based decrease in taxes will ultimately benefit the housing market," McLain said.
Others believe the tax bill will only have a negligible effect on homebuying and mortgage lending. That's because buying a home is an emotional decision that's somewhat removed from the current financial and economic conditions of the market, DiMarco says.
"Paying taxes and the emotional and practical demands of buying a home are unrelated," he says. "Imagine a young couple that says 'Oh, I'm pregnant. We need a house.' That is not a financial decision; that is a circumstantial decision. That's not going to stop because what was signed into law. I don't even think it throws a dose of cold water on it."
Technology
New technology and the internet's role in the homebuying process has been much ballyhooed when it comes to their impact on agents, who now have to compete with websites like Zillow to find leads and customers online. There has been a similar impact in mortgage lending, which allows people to apply for mortgages through an app and pay their mortgage bill through technology like Amazon's Alexa.
And while technology increasingly plays a role in how mom-and-pop lenders do their business, the best loans are still largely done the old-fashioned way: with the expertise of a lending team. "Technology has benefited the firms that do the round-peg, round-hole loan scenarios," McLain said. "It just makes it easier. Once you pull back that fancy curtain, the loan process is still the same for every lender, from those with the news technology down to the smallest lender. At the end of the day, it's still a big-box bank behind it and still lengthy close times. Bigger is not necessarily always better."
Technology can make the lending process go more smoothly for clients with a wide range of needs.
"My use of technology essentially makes the painful sit in the dentist's chair a lot easier," DiMarco says. "At three in the morning, I'm wondering if my deal is good to go. Or, how much do I need for a down payment? You can access that."
These offerings can make professionals in the mortgage industry more comfortable as well, allowing them to provide even better service and establish stronger relationships with their clients.
"The mortgage lending industry is moving at high speeds when it comes to digitization and technology," Fauth says. "Lenders are working to streamline the approval process while reducing origination costs. Some products and programs are taking a backseat to new digital ways of doing business. Most lenders are moving aggressively to incorporate features of Fannie's Day 1 Certainty, for example. Collecting client income/asset documentation more quickly and safely through digital platforms helps reduce operation costs and results in accelerated approvals for clients during the mortgage process."
One tangible way technology has streamlined the process is through an automated information verification system. Lenders need to verify employment, income and other needed information, and much of that has been done by making calls and checking facts. Now, much of it can be done online, DiMarco says. "I can get that stuff without calling your employer, or at least match it with the information they
give me," he says.
Still, technology can further improve the lending process. DiMarco said e-closing are the next frontier in the lending industry, if only the regulatory bodies get out of the way.
"E-closings, we need to get together and consummate this deal," he says. "We need to talk with the state and talk with Fannie and Freddie. To me, e-closings just make sense. And we're not there. I think because the verification is not yet trusted. I think ultimately the state will be the last entity to get on this train."