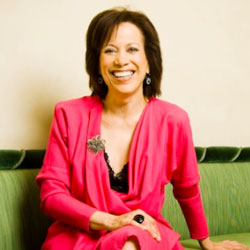 What was your first job in the realty industry? I started at Century 21 S.G.R. in North Center and focused on listings.
Where did you grow up? My parents immigrated from Cuba in 1967 and we moved five times in seven years. I grew up in Uptown, Humboldt Park, Belmont Craigin and then Austin.
What is your favorite free-time activity? Knitting.
What do you do to relax when you're stressed? Stop what I'm doing and do something completely different, finding a change of scenery to get some clarity.
Growing up, what did you want to be? A lawyer.
If you could have lunch with a well-known figure (living or not), who would it be and why? Oprah, to convince her to run for president of the United States.
Where is your favorite place to hang out? Home.
What do you love most about the industry? You never stop learning. Every transaction has business and human nuance.
How do you distinguish yourself from the crowd of agents? My analytical skills. It's more than repeating numbers or using graphs. The data tells a story, and that story can be a compelling one when you dive deep into the numbers. The story can motivate your clients and show them where the opportunity is.
What is the most difficult aspect of your job? Having empathy while not getting on the emotional rollercoaster — managing emotions/feelings, and not always your client's at times. It's yours, the lender's or the attorney's.
Where do you go to network and meet new clients? My business is word of mouth.
What has been your greatest accomplishment? Being the chair of the Student Loan Debt Work Group for NAR. It established policy for NAR, demonstrated how it delays housing formation, and ultimately Fannie Mae made a rule change to assist borrowers with this debt be able to obtain a sustainable loan.
What was the last good movie you saw or book you read? "Little Boy." Very uplifting.
What is your favorite restaurant? Pineapple & Pearls in D.C. It's an experience.
Architecturally speaking, what is your favorite building in Chicago? The Fine Arts Building.
What kind of car do you drive? I have a fleet of cars…ZipCar.
Smartphone or paper? Smartphone.
What is your favorite city after Chicago? Panama City, Panama.
In 10 words or less, what is your advice for someone new to the industry? Prospect daily, have a schedule and take a day off!
What's your favorite Real Estate iPhone/Blackberry app? DotLoop.
Who are your favorite people to follow on Twitter?
@desusandmero, @TheTweetOfGod, @TeaPainUSA, @ananavarro, @yashar, @thehill, @SRhule, @jaketapper, @StephCurry30, @KingJames, @RepAdamSchiff, @SenatorDurbin, @ava, @RogueFirstLady, @perlmutations, @SenDuckworth, @RepMikeQuigley, @CharlesMBlow, @BrianKarem, @soledadobrien