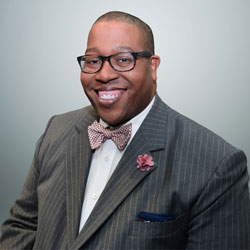 What was your first job in the realty industry? Leasing agent with Kale Realty.
Where did you grow up? South Side of Chicago in Chatham.
Growing up, what did you want to be? I wanted to be a lot of things: a pro golfer, mayor of Chicago, military lawyer, Major League Baseball manager.
What do you do to relax when you're stressed? Play video games, hit golf balls, tell jokes with my kids, pick out bowties.
If you could have lunch with a well-known figure (living or not), who would it be and why? Well, my hero is Jackie Robinson, so I'd love to ask him how he managed all of the stress of what he did.
Where is your favorite place to hang out? One of my favorite places in the world is a little bar in Evanston called Ward Eight. They make amazing cocktails, have no TVs and the conversations are always fun.
What do you love most about the industry? It really allows you to have "Phoenix moments" — even when you crash and burn, you can rise from the ashes and make something great.
How do you distinguish yourself from the crowd of agents? Attitude — that, and my many bowties.
Where do you go to network and meet new clients? I network with fellow alums from Depaul University and my high school, St. Ignatius. Those are great networks for me. Along with that, I try to meet five new people a day. That's always the goal.
What has been your greatest accomplishment? In life: having two great children; in real estate, closing my first sale a year ago. The first one is the hardest!
What was the last good movie you saw or book you read? The last good book I read was the War of Art. It's about stopping procrastination.
What is your favorite restaurant? Gibson's or Quartino.
Architecturally speaking, what is your favorite building in Chicago? The Cultural Center on Randolph and Michigan.
What kind of car do you drive? 2016 VW Tiguan R-Line.
Smartphone or paper? Both. I really like the feel of writing things down, but I'm all about new tech, so I use both.
What is your favorite city after Chicago? New Orleans. I love it there so much that I got married there.
In 10 words or less, what is your advice for someone new to the industry? Find a mentor and always ask questions.
What's your favorite real estate iPhone/Android app? Homesnap, bombbomb, Ripl.
Who are your favorite people to follow on Twitter? Professionally: Inman, Shannon Boland, and Baird & Warner; personally, ESPN.