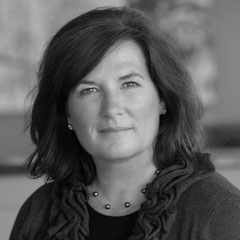 What was your first job in the industry? I was a sales agent at Kamberos Associates
Where did you grow up? All over the Midwest. I was born in Oklahoma, moved to Kansas City, then went to high school in Elgin. My father was in computers before it was cool, and we moved for his job.
Growing up, what did you want to be? Either a professional athlete (I was not that good, but I loved track and volleyball), or to own a company that was in the service business. Real estate sales is a good match.
What do you do to relax when you're stressed? I love to paint. Watercolor is my favorite medium. And I watch and re-watch every Blackhawks game.
If you could have lunch with a well-known figure (living or not), who would it be and why? Michelle Obama. I love her grace, her attitude and how she remained grounded in raising her daughters while living in the White House.
Where is your favorite place to hang out? The Chicago lakefront and riverwalk. Walking along our shoreline with the calming lake on one side and the vibrant city on the other gives me tremendous peace and happiness.
What do you love most about the industry? Two things. First, the people in the industry, some of whom I am honored to call my best friends. Second, my clients are wonderful and I am blessed to be able to provide counsel and guidance to them on their most important purchase or sale they have had.
How do you distinguish yourself from the crowd of agents? The way I distinguish myself, I think, is my years of experience in Chicago real estate. My previous job as a managing broker allowed me to be a good problem solver. My training of agents in negotiation and pricing also had me involved in thousands of transactions. Also I pride myself on my relationships with brokers in the industry.
What is the most difficult aspect of your job? The consistency and organization of having daily goals – what to accomplish on a daily basis. It is easy to get distracted with texts, emails and phone calls that can sidetrack you. Staying on point is the most challenging thing for me. I continually work on being mindful of purpose throughout the day.
Where do you go to network and meet new clients? I love volunteering and I'm on the board of directors for the Danny Did Foundation. I am passionate about causes working for a cure and awareness for epilepsy. If you are involved in something that you are close to, that attracts potential new friends and clients.
What has been your greatest accomplishment? My greatest accomplishment is training new agents and watching their success over the years. I love teaching real estate best practices and mentoring. It gives me great joy.
What was the last good movie you saw or book you read? I am currently reading "Alexander Hamilton" by Ron Chernow. This biography reads like a novel. It also shows the tenacity and struggles of the founding fathers.
What is your favorite restaurant? There are a few: Shaw's, Swift & Sons, MAD Social, Capital Grill and Red Arrow Roadhouse in Lakeside, Michigan.
Architecturally speaking, what is your favorite building in Chicago? I also have a few of these: the Mies van der Rohe at 860-880 Lake Shore Drive and the Lucien Lagrange buildings; Elysian & 2550 Lakeview.
What kind of car do you drive? A Lexus 350RX. I love it and find it easy to maneuver around the city.
Smartphone or paper? An iPhone 6S
What is your favorite city after Chicago? Florence, Italy
In 10 words or less, what is your advice for someone new to the industry? Stop talking and listen to veterans you admire in the industry, as well as your clients.
What's your favorite real estate iPhone/Android app? ParkChicago, it has saved me thousands of dollars in parking tickets.
Who are your favorite people to follow on Twitter? Chicago Blackhawks, DNAinfo, the Chicago Tribune, DannyDidOrg and CurbedChicago