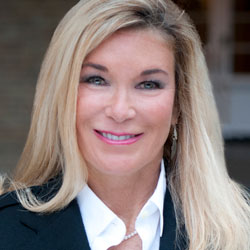 What was your first job in the realty industry? I was a Realtor in the north suburbs.
Where did you grow up? New York
Growing up, what did you want to be? A therapist
What do you do to relax when you're stressed? Play golf, work out, play Bridge, read
If you could have lunch with a well-known figure (living or not), who would it be and why? Oprah Winfrey, because she brings smiles to everyone.
Where is your favorite place to hang out? My country club
What do you love most about the industry? Competitive analysis
How do you distinguish yourself from the crowd of agents? I facilitate the needs of my clients, recognizing their decision is far too important and emotional for me to personally interfere.
What is the most difficult aspect of your job? Making sure that clients are kept informed, and that their expectations are consistent with market conditions
Where do you go to network and meet new clients? I always stay in touch with the clients I have worked for, so that leads to new opportunities. I also do marketing campaigns with Zillow, Trulia, local magazines and charities.
What has been your greatest accomplishment? Going before the city council to represent the historic significance of a house I represented and consequently sold
What was the last good movie you saw or book you read? "You, Staying Young," by Dr. Oz and Michael Roizen
What is your favorite restaurant? Joe's Stone Crab
Architecturally speaking, what is your favorite building in Chicago? The Waldorf Astoria
What kind of car do you drive? A BMW 535
Smartphone or paper? Smartphone iPhone
What is your favorite city after Chicago? New York City
In 10 words or less, what is your advice for someone new to the industry? Utilize technology, drive, and honesty to perform.
What's your favorite real estate iPhone/Android app? Realtor.com
Who are your favorite people to follow on Twitter? Karen Malkin Health