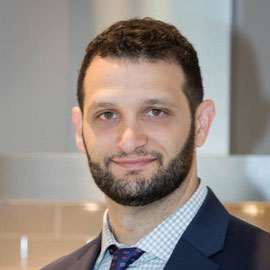 What was your first job in the realty industry? I worked in property management and hated it, but knew it was a good jumping-off point into the wild world of real estate.
Where did you grow up? I grew up in the North Suburbs, in Deerfield, to be exact.
What do you do to relax when you're stressed? I compete in handball. No, not team handball. It originated in Ireland. It's a very competitive one-on-one sport that is perfect for allowing me to let go of everything and just compete.
Growing up, what did you want to be? I remember wanting to be a professional soccer or baseball player. The reality of actual life hadn't kicked in yet. I played Division I soccer in college, so I guess I got halfway.
If you could have lunch with a well-known figure (living or not), who would it be and why? The Dalai Lama. I want to know what he actually wanted to be when he grew up and what led him to what he became.
Where is your favorite place to hang out? It sounds corny, but I love to just hang out at home with my wife and 2-year-old son.
What do you love most about the industry? I love that I get to play a part in the journey my clients are on. For many of them it will be the biggest purchasing decision of their life and I feel honored that they place their faith in me.
How do you distinguish yourself from other real estate agents? I try to make it a point to maintain my professionalism, but still treat my clients as close friends who I can joke around with as well. They are relying on my knowledge and expertise, so I want them to feel comfortable asking me questions without hesitation.
What is the most difficult aspect of your job? The most difficult/most important part of my job is to give each client my complete attention and care. It's easy for agents not to follow up with clients as regularly as they want, especially the busier they get, so I make it my No. 1 priority to build that into my daily routine.
Where do you go to network and meet new clients? I don't have a specific spot, necessarily, as I am always meeting different people in different places. I love discovering new settings.
What has been your greatest accomplishment? I once saved the lives of two people drowning in Lake Michigan. No matter what happens in my life, I will always be grateful and proud of that.
What was the last good movie you saw or book you read? The last great movie I saw was The Revenant. It also happened to be the last movie I saw in theaters. Having a kid limits my movie time! As for a great book I read, that would be "Willpower: Rediscovering the greatest human strength" by Roy F. Baumeister.
What is your favorite restaurant? The Girl and the Goat. Possibly Au Cheval, as soon as I get a table.
Architecturally speaking, what is your favorite building in Chicago? The Carbide and Carbon building. The reason it looks like a champagne bottle is an interesting story.
What kind of car do you drive? An Audi A4
Smartphone or paper? Paper for sure. Unfortunately there is no getting around the smartphone anymore.
What is your favorite city after Chicago? San Diego
In 10 words or less, what is your advice for someone new to the industry? Don't get discouraged, ask for advice, and network!
What's your favorite real estate iPhone/Android app? Walk Score