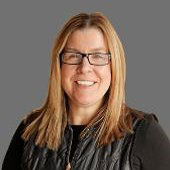 What was your first job in the realty industry? I started as a rental agent in 1989.
Where did you grow up? Edgewater Glen. I'm a native Chicagoan.
What do you do to relax when you're stressed? I come back to being present in the moment. I do not let my stress hijack the situation and dial down the false narratives.
Growing up, what did you want to be? Successful.
If you could have lunch with a well-known figure (living or not), who would it be and why? Michelle Obama. I am inspired by her authenticity, steady confidence, strength, grace and genuine prioritization of family. She is a perfect example of having it all and doing it well.
Where is your favorite place to hang out? Our farm in Michigan
What do you love most about the industry? The opportunity to create fundamental wealth
What is the most difficult aspect of your job? Managing priorities
Where do you go to network and meet new clients? Every day we have the opportunity to meet and make impressions. There is no specific event or magic bullet. Put yourself out there everywhere, follow up and be consistent. When I started in this business, I prospected every day without fail for seven years and built a base. From there it became repeats and referrals. This business is all about developing relationships, being of service and being of value to everyone, every day.
What has been your greatest accomplishment? Getting married at age 20 to my best friend. We both started with nothing, but we had shared values and goals and we are still married 30 years later. I am also proud of raising two strong, smart, independent, confident, empathic, wise daughters who are equipped make this world a better place.
What was the last good movie you saw or book you read? Book: "Power versus Force."
What is your favorite restaurant? Le Bouchon
Architecturally speaking, what is your favorite building in Chicago? The Old Broadway Bank and Edgewater Beach Hotel
What kind of car do you drive? Range Rover
Smartphone or paper? Both
What is your favorite city after Chicago? San Francisco
In 10 words or less, what is your advice for someone new to the industry? Be in it to win it. Dive deep.
What's your favorite real estate iPhone/Android app? DocuSign