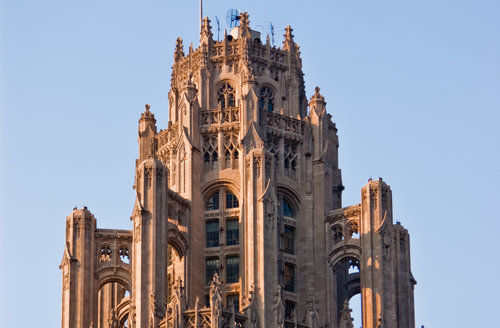 The iconic Tribune Tower has been for sale since Oct. 2015, and until recently, there has been little to no information on a leading buyer.
That has changed, however, with Los-Angeles based developer CIM group now leading the charge for the building and its adjacent Michigan Avenue property. 
Last month, we reported that CIM group was one of three potential buyers that had taken an interest with the building. CIM has offered between $240 million and $260 million, a number that many competitors are not willing to match.
Oxford Capital, which recently developed upscale hotel LondonHouse, still remains in the running for the property. CEO John Rutledge told the Chicago Tribune that his group is refusing to go any higher for Chicago landmark.
"We remain interested in the opportunity, but we were not prepared to be any more aggressive on our price or terms," Rutledge said. "If that means we don't get picked, we're at peace with that."
On Monday, CIM announced the purchase of 440 S. LaSalle St. for a reported $191 million, adding to its Chicago footprint. In 2012, CIM acquired the Block 37 complex, completing the apartment tower last month.
CIM's potential plans for the building and adjacent property are unclear; however, history has shown that hotels, residential, and office buildings are all in play.