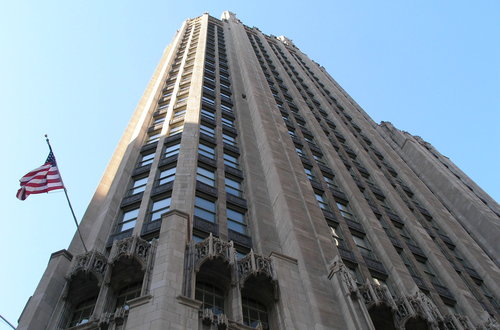 The iconic Tribune Tower, which has been up for sale since early October, may soon be in store for a radical change, according to Chicago Real Estate Daily.
Sitting adjacent to the Chicago River, the 36-story building is estimated to sell for upwards of $230 million, with a potential ceiling at $260 million.
The property also includes a parking lot east of the tower, which, according to Chicago developer Steven Fifield, makes it extremely attractive.
"Streeterville and North Michigan Avenue are incredible submarkets," said Fifield, who is chairman and CEO of Fifield Cos. "It's a great location for hotel, residential and retail. That's all very compelling."
Redevelopment Possibilities for Tribune Tower
One to two additional towers could be added to the property, depending on the space created by demolition and the vision of the future buyers. The list of potential buyers has been narrowed down to include CIM Group (a Los Angeles-based developer that owns the Block 37 mall), and two Chicago firms: Oxford Capital Group, developer of the new LondonHouse hotel across the river; and Riverside Investment & Development.
Current proposals for the property include hotels and residential or office properties, according to people familiar with the process.
Challenges lay on the horizon, however. Before any progress is made, downtown alderman Brendan Reilly must sign off on a zoning change that allows for more high rises.
Fifield considered purchasing the property himself, but understood the difficulty that may come with the property, and how the timetable for the finished product may come at a time when the recent real estate explosion is nearing its conclusion.
"There are a lot of boxes to check to get it over the finish line," he said. "We looked at it and said, 'It's going to be a lot of brain damage.'"