The Chicagoland area has some of the best schools in the country, but are homes affordable in those schools' neighborhoods?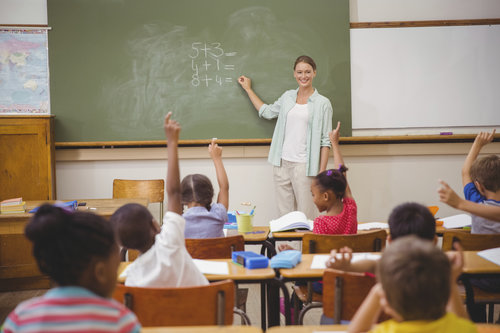 Good schools are one thing, but affording homes in those areas is an entirely different matter.
According to a new report from RealtyTrac, of the 1,823 ZIP codes in the U.S. with at least one good elementary school (those that test above state averages), 65 percent had housing markets that were unaffordable to average wage earners, meaning they required more than one-third of monthly income. In those ZIP codes, the median sales price in 2015 was $411,873, 95 percent higher than ZIPs without good schools.
The scenario in Chicagoland, however, was significantly different. With 179 affordable ZIP codes with good schools, the Chicagoland region had the most ZIP codes of any metro area (second-place Detroit was far behind with 44), while of all the Chicagoland ZIP codes RealtyTrac studied, 72.6 percent were affordable to local wage earners.
Courtesy of exclusive numbers from RealtyTrac, we've charted the top-performing elementary schools in both Chicago and the surrounding suburbs – in both affordable and unaffordable ZIP codes. We should note two things: first, in regards to test scores, the state average is a score of "1.0"; and second, for more information on what CPS schools are selective enrollment, click here.
| School Name | Suburb | 2014 Test Scores | Median Sales Price | % of Wages Needed to Buy |
| --- | --- | --- | --- | --- |
| Eisenhower Academy | Joliet | 2.21229944 | $53,000 | 8.7% |
| Fairview Elementary | Hoffman Estates | 2.14898249 | $166,750 | 18.3% |
| Ivy Hall Elementary | Buffalo Grove | 2.11897188 | $265,000 | 23.5% |
| Herbert Hoover Elementary | Schaumburg | 2.11050392 | $165,000 | 18.2% |
| Thomas Dooley Elementary | Schaumburg | 2.06895664 | $190,000 | 20.9% |
| Arcadia Elementary | Olympia Fields | 2.0639121 | $162,550 | 17.9% |
| Chippewa Elementary | Palos Heights | 2.06262157 | $235,500 | 25.9% |
| Fairview South Elementary | Skokie | 2.02321118 | $190,000 | 20.9% |
| Prairieview Elementary | Bartlett | 2.003557 | $224,000 | 26.2% |
| Park View Elementary | Lombard | 1.99979827 | $197,250 | 23.1% |
| School Name | Suburb | 2014 Test Scores | Median Sales Price | % of Wages Needed to Buy |
| --- | --- | --- | --- | --- |
| Middlefork Primary School | Northfield | 2.31597257 | $825,000 | 90.8% |
| John Laidlow Elementary | Western Springs | 2.21732094 | $565,000 | 62.2% |
| Madison Elementary | Hinsdale | 2.21295636 | $686,667 | 80.4% |
| Brook Forest Elementary | Oak Brook | 2.20149183 | $500,000 | 58.6% |
| Walden Elementary | Deerfield | 2.18540643 | $446,000 | 39.6% |
| Meadow Glens Elementary | Naperville | 2.18292015 | $337,000 | 39.5% |
| Kildeer Countryside Elementary | Long Grove | 2.18223909 | $410,000 | 36.4% |
| McKenzie Elementary | Wilmette | 2.17853819 | $629,500 | 69.3% |
| Barbara B Rose Elementary | South Barrington | 2.17104701 | $435,250 | 38.7% |
| Highlands Elementary | Naperville | 2.16575371 | $360,000 | 42.2% |
| School Name | Neighborhood | 2014 Test Scores | Median Sales Price | % of Wages Needed to Buy |
| --- | --- | --- | --- | --- |
| Decatur Classical Elementary | West Ridge | 2.35199145 | $140,000 | 15.4% |
| Keller Elementary | Mount Greenwood | 2.33174703 | $210,000 | 23.1% |
| Edison Elementary | Albany Park | 2.32285828 | $250,000 | 27.5% |
| McDade Elementary | Chatham | 2.2881631 | $55,000 | 6.1% |
| Lenart Elementary | Chatham | 2.2665386 | $52,000 | 5.7% |
| Poe Elementary | Roseland | 2.25484989 | $36,000 | 4.0% |
| Oriole Park Elementary | Norwood Park | 2.05553955 | $240,000 | 26.4% |
| Disney II Elementary | Old Irving Park | 1.94537403 | $248,000 | 27.3% |
| Canty Elementary | Dunning | 1.86757336 | $220,000 | 24.2% |
| Stone Elementary | West Ridge | 1.7992994 | $199,000 | 21.9% |
| School Name | Neighborhood | 2014 Test Scores | Median Sales Price | % of Wages Needed to Buy |
| --- | --- | --- | --- | --- |
| Skinner Elementary | Near West Side | 2.22450941 | $331,000 | 36.4% |
| Lincoln Elementary | Lincoln Park | 2.17702573 | $452,500 | 49.8% |
| Hawthorne Elementary | Lakeview | 2.13258221 | $381,500 | 42.0% |
| Bell Elementary | North Center | 2.1079522 | $365,000 | 40.2% |
| Edgebrook Elementary | Edgebrook | 2.08054952 | $367,500 | 40.4% |
| Andrew Jackson Elementary | University Village | 2.07880165 | $331,000 | 36.4% |
| Coonley Elementary | North Center | 2.02397641 | $365,000 | 40.2% |
| Sauganash Elementary | Sauganash | 2.01389356 | $367,500 | 40.4% |
| Wildwood Elementary | North Edgebrook | 1.96302576 | $367,500 | 40.4% |
| Burley Elementary | Lakeview | 1.96180856 | $381,500 | 42.0% |