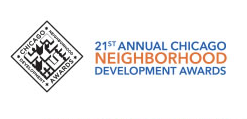 Five community developers and three architectural organizations were recognized for outstanding projects in Chicago communities on Tuesday, February 17, 2015 for the 21st Annual Chicago Neighborhood Development Awards (CNDA).
The ceremony, organized by Local Initiatives Support Corporation (LISC) Chicago, gathered more than 1,400 community developers, business leaders, neighborhood advocates and elected officials to honor these eight organizations for their achievements in community development and architectural design.
"The Chicago Neighborhood Development Awards celebrate what truly makes our city great – the passion, creativity and diversity of our community development leaders," said LISC Chicago Executive Director Susana Vasquez. "This year's recipients have all made dramatic contributions to the economic, social and cultural life of the communities they serve – from inspirational buildings to dedicated organizations and developing leaders, CNDA honors everything that makes Chicago neighborhoods thrive."
During the awards ceremony, Chicago Deputy Mayor Steven Koch delivered a keynote address and Cook County Board President Toni Preckwinkle moderated a panel discussion with Chicago youth leaders.
During the ceremony CNDA presented five community development awards, three Richard H. Driehaus Foundation Awards for Architectural Excellence in Community Design and two awards for personal achievement to individuals. All award submissions were extensively reviewed by teams of judges. The 2015 CNDA honorees are:
The Chicago Community Trust Outstanding Community Strategy of the Year Award Winner: Chicago Neighborhood Initiatives for the Pullman Revitalization Strategy
The Richard H. Driehaus Foundation Award for Outstanding Non-Profit Neighborhood Real Estate Project Award Winner: Thresholds for Fred and Pamela Buffett Place
The Polk Bros. Foundation Affordable Rental Housing Preservation Award Winner: Bickerdike Redevelopment Corporation for 1704 N. Humboldt Building
The Woods Fund Chicago Power of Community Award Winner: Albany Park Neighborhood Council for the VOYCE Project
The Outstanding For-Profit Neighborhood Real Estate Project Award Winner: SKILKEN and TROY Enterprises for The SHOPS and LOFTS at 47
The winners for the Richard H. Driehaus Foundation Award for Architectural Excellence in Community Design are:

1st Place – Landon Bone Baker Architects for Fred and Pamela Buffett Place
2nd Place – Weese Langley Weese Architects Ltd for Grove Apartments
3rd Place – Wrap Architecture for Bronzeville Artists Lofts
Awards were also given to Sarah Ward and Earnest Gates for their contributions in service and leadership in Chicago.
Founded in 1995 by LISC Chicago, CNDA has become one of the most publicly-recognized programs to celebrate outstanding projects and achievements in the city and honor the role developers play in building healthier neighborhoods throughout Chicago. This year's ceremony was sponsored by State Farm and dozens of civic-minded corporations and foundations. For more information, visit www.lisc-cnda.org.