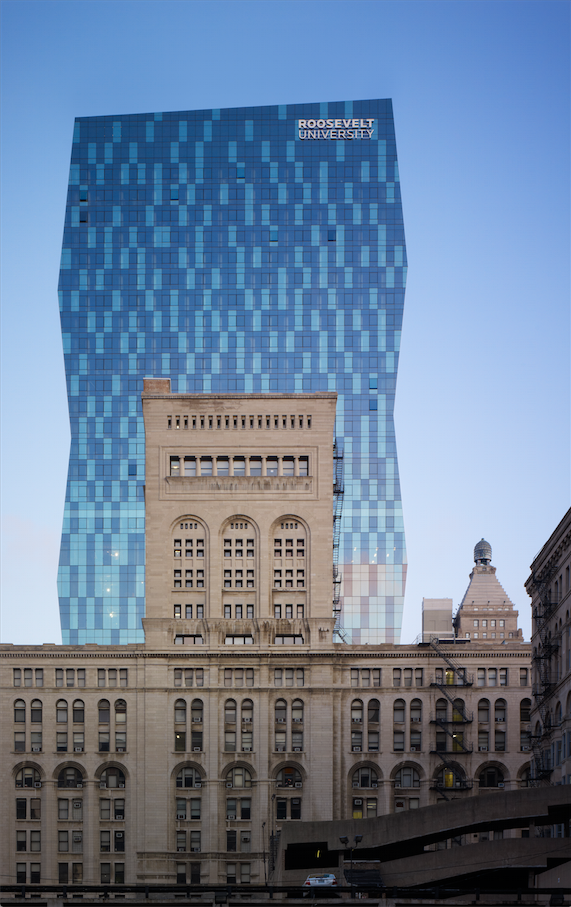 VOA Associates Incorporated is pleased to announce that the Roosevelt University Wabash Building in Chicago has won the 2015 FIABCI-America Grand Prix of Real Estate award. The award was announced this week at the FIABCI-America Grand Prix Gala in Washington, D.C.
The FIABCI Grand Prix of Real Estate award recognizes the project that best embodies excellence in the real estate disciplines involved in its creation. It illustrates the FIABCI ideal of providing society with the optimal solution to its property needs. The FIABCI Grand Prix of Real Estate is awarded by an international panel comprised of top real estate professionals and experts, and is chosen for overall merit.
One of the highest honors given annually to a single, outstanding project in America, the national award recognizes a property that embodies the best in U.S. real estate, setting the stage for the Wabash Building to compete in Malaysia in May 2015 for the International FIABCI Prix d'Excellence Award.
"The Wabash Building has received a number of awards, but this one in particular elevates the University and the building before an international audience of distinguished leaders in real estate and design," said Jon B. DeVries, director of Roosevelt's Marshall Bennett Institute of Real Estate, which initiated the application process for the award and whose offices also are housed in the Wabash Building. "This honor puts Roosevelt, its building and VOA Associates' work on the global stage," he says.
"Our acceptance of this award on behalf of Roosevelt University was a testament to the relevance of the university's continuing mission of social justice and its relationship to global issues of sustainability. The Wabash Building was honored alongside a group of outstanding projects," says Chris Groesback, the architect of the building. "All of these projects demonstrate the importance of holistic real estate development which considers and balances the issues of economics, environment conservation and the strengthening of our local and global communities."