Tracking the Data
While not using the MLS may create legal troubles for brokers and agents, it does have an effect on data. Theoretically, Bergeron says, MLS data could be affected by massive amounts of off-MLS listings. And at this point in time, he reports that MRED has seen an "apparent increase in off-MLS listings during the peak of the recent market."
However, he is confident that the vast majority of the marketplace data is still making it into the MLS.  His reasoning – because listings are eventually entered into the MLS after testing the off-MLS market; entered after being sold because agents see the value of the information being in the system for comparable purposes; or were kept off the MLS legitimately while "pre-marketing" or staging was being completed.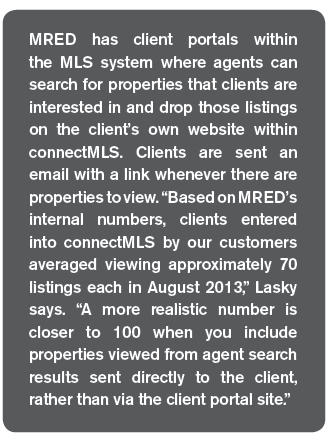 Something else that could affect data is brokerage apps that can aid pocket listings transactions, like the one created for @properties. Spaniak uses the app to pre-market properties. It allows her to see what kind of interest the house will generate and it presents
@properties agents with good initial feedback.
"I posted a new listing a few weeks ago on the app; we didn't get many showings, so I knew that I could give more feedback to my sellers since I had already heard from other agents about why it wasn't getting showings," she says. "When we received a very good offer within three days of listing the property, my sellers felt very comfortable negotiating it rather than waiting for more showings."
But does this mean that @properties is selling homes before they ever go on the MLS, and fairly often, at that? "We can provide a competitive advantage to both our buyers and sellers by having effective communication with other agents," Spaniak says. "There is nothing unethical or improper about agents discussing their listings and pre-marketing their listings. After all, this is why our clients hire us."
She admits other agents may be upset because they don't hear about listings first, but argues, "This isn't about the agent; this is about clients." Spaniak adds that her clients are thrilled with the app.
To insure @properties is doing nothing inappropriate, Spaniak says, "The MLS has implemented some new rules for us regarding pocket listings that are not posted in the MLS. We have to fill out a new MLS form. Sellers will indicate when the house will go into the MLS."