While multiple listings are routinely communicated through an Internet Data Exchange, or IDX, new data is coming out that says marketing listings on syndication sites like Zillow and Trulia seems to help in targeting homebuyers.
It makes sense to market properties on syndication sites because of their popularity with consumers, as well. According to a report from Experian Hitwise  in June 2013 on the top 10 visited real estate websites based on the U.S. market share, Zillow is the most consumer-visited website at 13.3 percent, followed by Trulia (8.5 percent) and realtor.com (6.7 percent).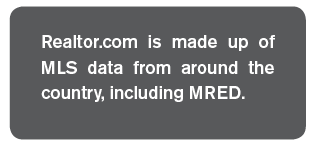 Syndication sites aren't just destination sites for buyers; sellers use them, too, often starting with Zillow because of its "Zestimate" of home values tool, which too many sellers consider an accurate home value tool. However, a Zestimate is  often not an accurate appraisal; BiggerPockets.com, a real estate investment blog, measured the accuracy of the Zestimate, and found that, when compared to the actual home sale prices, the Zestimate is within 5 percent of the actual sale price around 33 percent of the time, and within 10 percent of the sale price around 50 percent of the time.
Redfin was hired recently to assess the accuracy of sites like Trulia and Zillow, and their study found that approximately 36 percent of the listings shown as active on Zillow and Trulia were no longer for sale in the local MLS, compared with almost none on local brokerage websites. The study further found that brokerage-sourced listings using their local MLS feed displayed 100 percent of the MLS homes listed for sale on their websites, but Trulia only displayed 81 percent and Zillow 79 percent.
Yet, in Chicago, at least, it appears that the majority of homebuyers go straight for Zillow or Trulia when it comes to searching for homes, not realtor.com, which gets its data straight from the MLS. And these syndication sites are where many agents advertise their services as well as their listings – these aggregation portals comprise almost 30 percent of all non-mobile online real estate traffic, and potentially more, given certain data partnerships, which means properties listed on one of these services will also be listed on other databases.
But while these sites help market a seller's property, using only these sites is not as effective as using the MLS, according to Leslie Ebersole, a broker associate with Baird & Warner. Using syndication sites in addition to the MLS is a more efficient tactic.
"I wish that more brokers and agents were not so reactionary against third-party sites and looked at them as just being one more place to advertise listings," she says. "A lot of energy and time is wasted on the debate of whether syndication sites are competitors with the MLS, but only consumers helped them take off. They are data-rich sites with features and functions that only the biggest brokerage sites can provide."
In fact, there doesn't need to be a war  between the MLS and syndication sites – many agents believe it's more efficient when their buyers can search for homes on Zillow and Trulia, and then agents can pull even more information – or tell them the listing is actually no longer on the market – from the MLS.
Malone admits she rarely uses other real estate sites to market a home because those are often geared toward the consumer. Instead, she prefers to market a home to other brokers, and that is why, in her opinion, the MLS is essential to the real estate industry.
"In my experience, the MLS is the most powerful for both purchasers and sellers," she says. "For the most part, I think broker-driven traffic provides better results and more quality leads."