Financing Changes and the Economy
With rising interest rates affecting buying power, how will the changing rates affect affordability?
The message that Jed Stafford, senior vice president at PHH Home Loans Midwest, is relaying to agents is this: a 1 percent increase in interest rates impacts a buyer's buying power by 11 percent. Therefore, if a buyer currently qualifies for a $200,000 loan, he or she will qualify for $22,000 less if interest rates go up by 1 percent.
"Let's say we're forecasting a 1 percent rate increase in the next six months," he says. "Then you're looking at buying power being impacted by 11 percent, and with another 4 percent impact in buying power, which comes from an annual recovery rate on home values of 8 percent (over six months, that would be 4 percent), that's a 15 percent reduction in a buyer's buying power."
"Now, this sounds like a bad thing, but in actuality, rising interest rates are a good thing – it means our economy is becoming healthy," Stafford adds. The interest rates were in the low to mid-6 percent range right before the recession. During the recession, affordability has skyrocketed to historic levels – because rates are beginning to go back up, the affordability index is still high, but coming back down. Coupled with rising rates, Stafford says – in the next six months, he predicts rates will rise about half a percent, if not more – with the correct knowledge of what buyers can afford, it's still a great time to buy.
"The hard part about this message is that to step closer to recovery, interest rates have to go up," he says. "Although no one wants to pay more, everyone wants to have their homes appreciate more value. We should all want interest rates to go up so we can get back to a balanced society. The media spins this as a negative, but it's a healthy sign."
As with all interest rates, these are very, very difficult to predict. In addition, it's hard to pinpoint exactly where the natural balance of the market should be, and what interest rates should be when it is healthy. If we look at the market before the recession, interest rates ranged between 5 and 7 percent.
What we're seeing now, Stafford says, is a more natural supply and demand curve, and overall, a healthier market. However, "downside risks" to the outlook have diminished, and the tightening of financial conditions observed in recent months, if sustained, could slow the pace of improvement.
"Right now,  the 'creative' products aren't being done, like loans with no stated income or documentation,  and there is a fair amount of demand, so the government is purchasing quite a bit of products – about $85 billion a month in bonds and mortgages – to keep the rates down," he says. "In September, the government shocked everyone and decided not to taper purchases, and decided to wait for more evidence that progress will be sustained before adjusting the pace of its purchases. Risks that will have negative effects on the market seem to have diminished, but the tightening of financial conditions could slow the pace of improvement."
One thing is for sure – rates will continue to rise, even if slowly, so prepare your clients to adjust their budgets and affordability if they are looking to purchase a home within the next year.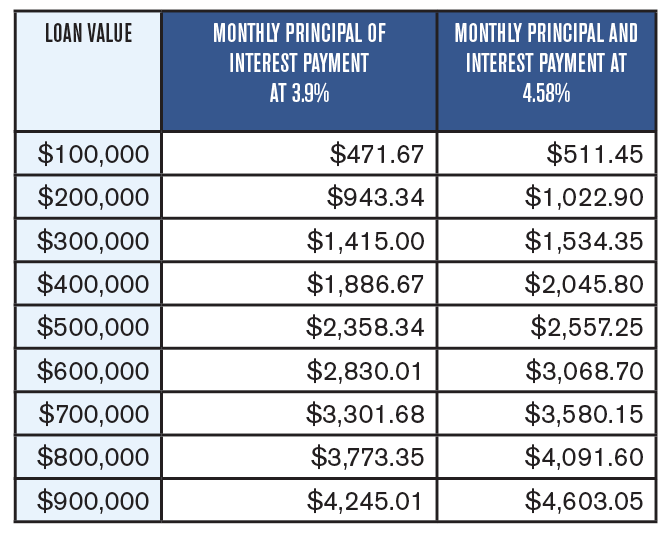 QM Changes
Although commotion has been made about FHA changes, more changes are happening due to the Dodd-Frank and Qualified Mortgage (QM) requirements, which will also impact jumbo loans and buying power. The Dodd-Frank had 580 changes that needed to be implemented, and according to Stafford, only half of these changes have been implemented in mortgage offices across the country. The deadline for most of these changes to be implemented is Jan. 10, 2014.
"The Dodd-Frank is a massive bill, over 14,000 pages," he says, "and there are a lot of ambiguities in it. Every lender is trying to scramble and meet these new QM requirements. The government keeps changing things, which changes how lenders react to it. To comply with these changes, secondary underwriting and a massive amount of legal committees are needed to stay in compliance with the law. It's a massive project for the lending communities right now."