Spring was a good season for Illinois real estate, with April showers also contributing to a 25.3 percent of home sales.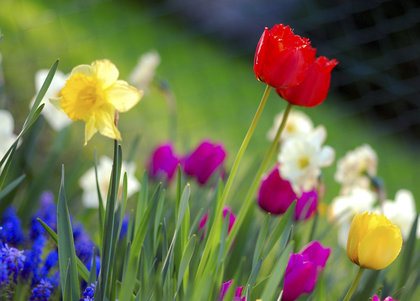 Illinois home sales increased 25.3 percent over previous-year levels in April, and the market looks to be in good shape, according to the spring numbers from the Illinois Association of Realtors.
Statewide home sales (including single-family homes and condominiums) in April 2013 totaled 12,621 homes sold, up from 10,076 in April 2012. This was the best April performance since 2007.
The statewide median price in April was up 7.7 percent year-over-year.
"The spring numbers are very encouraging, especially as we see substantial tightening of the numbers of homes on the market," said Michael D. Oldenettel, CRS, GRI, president of the Illinois Association of Realtors and Managing Broker/Owner with RE/MAX Results Plus in Jacksonville, Ill. "While prices are inching up slightly due to strong demand, the interest rates continue to be a powerful lure for those who want to own a home and the spring housing market looks to be a strong one."
Here are some figures:
The inventory of homes for sale has fallen 30.6 percent year-over-year.
The time it takes to sell a home has also dropped 19.8 percent from April 2012.
 The monthly average commitment rate for a 30-year, fixed-rate mortgage was 3.42 in April 2013
In the nine-county Chicago Primary Metropolitan Statistical Area (PMSA), home sales (single-family and condominiums) went up 31.2 percent from last year's numbers.
The median price in April 2013 was up 8.1 percent year-over-year.
"The housing market is exhibiting signs of a more stable recovery with an anticipated strong early summer led by strong sales gains and more modest but still positive gains in median prices," noted Geoffrey J.D. Hewings, Director of the Regional Economics Applications Laboratory of the University of Illinois. "Average time on the market, the growth in the pending sales index and an increase in the share of total sales captured by more expensive properties point to a return to greater stability in the market."
Fifty-five (55) of 102 Illinois counties reporting to IAR showed year-over-year home sales increases in April 2013. Forty-two (42) counties showed year-over-year median price increases including Knox, up 32.1 percent to $72,000; Lake, up 16.1 percent to $188,125; Grundy, up 15.7 percent to $155,000; Cook, up 11.9 percent to $172,900; and Madison, up 4.5 percent to $116,000.
On the local side:
Statistics in the city show steady growth:
The city of Chicago saw a 28.4 percent year-over-year home sales increase in April 2013.
The median price of a home in the city of Chicago in April 2013 was up 22.0 percent since last April.
Chicago condo prices posted a 21.1 percent jump.
"Housing numbers continue to indicate a steady market recovery in Chicago," said REALTOR® Zeke Morris, president of the Chicago Association of Realtors and Operating Principal and Managing Broker, Keller Williams Realty, CCG. "We are pleased to see condo sales, in particular, regain their strength. The biggest challenge currently is a steep decline in inventory, which may pose difficulty for buyers looking for a wide selection in certain areas. On the other hand, it is a great time for people who are considering selling to talk with a REALTOR®."
Sales and price information is generated by Multiple Listing Service closed sales reported by 31 participating Illinois REALTOR® local boards and associations including Midwest Real Estate Data LLC data as of May 7, 2013 for the period April 1 through April 30, 2013. The Chicago PMSA, as defined by the U.S. Census Bureau, includes the counties of Cook, DeKalb, DuPage, Grundy, Kane, Kendall, Lake, McHenry and Will.