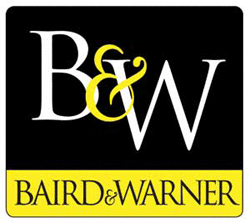 Bill Stegeman, the managing broker of Baird & Warner's flagship Lincoln Park office since 2004, defines his office's philosophy as a balance between professional and personable, support and independence.
"(Our) office style is cooperative, collegial, professional and fun. We work hard and play hard," Stegeman says. "Our goal is to free up our agents to do what they do best: generate, negotiate and close business. We do everything else for them."
And by "everything else," Stegeman is not exaggerating – with 21 Chicagoland offices that are accessible to agents 24/7, Baird & Warner provides agents with a combination of private offices and desks, wireless Internet that works in all its locations, a free help desk to assist agents with technology-related questions, and robust administrative services, including personalized marketing, listing and contract management, individualized coaching, training and professional development, presentations by renowned speakers and trainers, and in-house mortgage and title support.
Stegeman has worked in real estate since 1984, and his credentials include a spot on the Chicago Association of Realtors Board of Directors. A graduate of Princeton University with an MBA from Columbia University in New York City, Stegeman sold new construction in New York for The Related Companies before coming to Chicago, where he earned President's Club and International President's Elite distinctions.
Baird & Warner offers its agents considerable resources in lead generation, especially via its cutting-edge technology and marketing programs, Stegeman says. Leads are provided at no charge to agents through: the company's award-winning website; a texting program incorporated into all of its signage; personalized agent websites; customizable electronic newsletters and e-marketing; and leads generated through Trulia, Zillow, the Chicago Tribune's website and a myriad of other websites. Leads are also provided through the company's sizeable corporate relocation and broker referral networks. The agents in the office have access to unlimited flyers, brochures, eblasts, signage and professional photography, all free to agents.
The company's emphasis on cutting-edge technology and highly-individualized marketing, Stegeman says, equips Baird & Warner's agents to capitalize on the personal nature of real estate sales.
"As sales professionals, we are in a people business," Stegeman says. "Technology and marketing are important to the extent to which they create, foster and promote personal relationships."
And Baird & Warner is always welcoming to agents who want to build their business through this personal and professional approach, Stegeman says. "We invite agents to explore opportunities with us at our office, all-company events and social gatherings," Stegeman says. "Agents who would be a good fit for our office are independent, committed, self-motivated and always looking to improve their business. We are a growing, upbeat and can-do office poised to flourish in 2012."
Years as managing broker: Seven
Years in real estate: 27
Number of full-time agents: 140