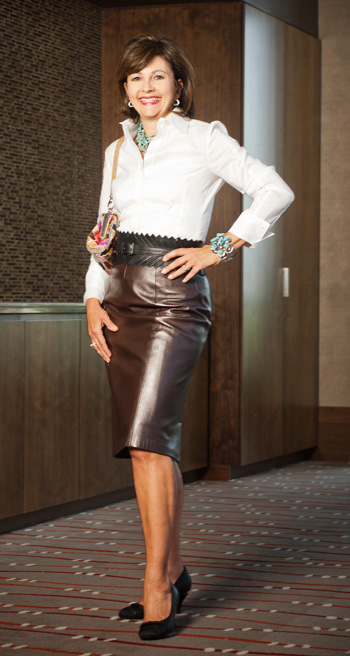 Years in real estate: 25
Describe your look: Current but classic.
What do you consider a fashion don't? Hose with sandals — ouch!
What is your favorite piece of clothing? A good white blouse.
What do you consider a must-have accessory? Stylish but comfortable black pumps.
What is a fashion crime you have committed? My daughter could provide a long list. I think patterned Capri pants are the most recent crime — what was I thinking?
Where are your favorite places to shop? Boutiques, Carlisle, Last Call by Neiman Marcus, Deer Park Town Center and Nordstrom.
What completes your look: A good night's sleep, a sense of humor and sunglasses.
Blouse-Hugo Boss
Skirt-Volpato
Belt-BCBG
Shoes-Chanel
Necklace-Silpada
Bracelet-Contessa Bottega
Purse-Dolce & Gabbana
Diamond Hoops-Long & Co. Jewelers
Ruby and Diamond Ring-Bailey Banks & Biddle
SPECIAL THANKS TO HOTEL INTERCONTINENTAL O'HARE FOR THE LOCATION OF THE PHOTO SHOOT