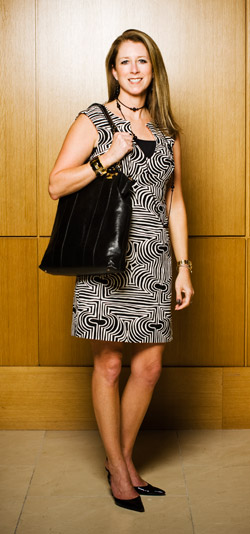 Number of years in real estate: Five.
Describe your look: I would consider my look to be classic and tailored. I am not one for a lot of color in my wardrobe. For the most part, my closet can be divided into black, white, gray, tan and a touch of orange if I am feeling really daring.
What do you consider a "fashion don't"? Wearing clothes that are not age-appropriate. The fact that I even said that means I am getting old!
What is your favorite piece of clothing and why? I just "retired" my favorite piece of clothing. It was a cropped leather jacket that I bought in 1992. I had just started working as an assistant states attorney making virtually enough money to cover my dry cleaning. The jacket was hugely discounted, but it was still out of my budget. I bought it anyway and skipped a few happy hours. I wore it to death. RIP leather jacket.
What do you consider a must-have accessory? Tory Burch Reva flats. When you are showing homes all day, they are comfortable, good-looking and slide on and off quickly.
What is a fashion crime you have committed in the past? In the late 1980s, I wore large, loose-fitting clothes and giant shoulder pads…not good.
Where are your favorite places to shop? I like to shop locally if possible; my local Hinsdale favorites are Alixandra Collection, Shop 10 and Stockholm Objects.
What, besides your wardrobe, completes your look? My iPad 2 and a Starbucks cup with my favorite drink: a Grande nonfat, no whip, two pump, two Splenda mocha.
Dress-Trina Turk
Cami-Zara
Shoes-Manolo Blahnik. Truth be told, I wouldn't wear these to show homes (ouch) but I would to a closing or listing presentation.
Handbag-Tory Burch
Earrings and Necklace-Alixandra Collection
Cuff-C.C. Skye
Watch-Vintage Rolex – it belonged to my father-in-law. I had a few links taken out to fit me; when our boys are older, I will add the links back for them.
Bracelet-David Yurman
THANKS TO HOTEL INTERCONTINENTAL O'HARE FOR THE LOCATION OF THE PHOTO SHOOT