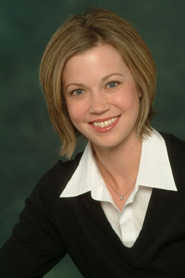 Real Living Infinity, Lincoln Park
What was your first job in the realty industry? I was a sales associate at a larger real estate firm before I joined Real Living Infinity.
Who inspires you? My husband, my mom and my closest girlfriends
What is your favorite free-time activity? Running on the lakefront, trying new restaurants and anything with my friends and family
How did you learn the business? I was lucky to get partnered up with an amazing agent, Claudia Langman. She has taught me so much about what it takes to be a top agent, and I continue to learn from those around me. Tripti Kasal, my managing broker, is amazing, as well as all the women involved with me in the Women's Council of Realtors.
What was your most difficult sale, and how did you succeed? Probably my very first deal. I was so nervous I would do something to screw it up, but it closed without a hitch. I also learned to never be shy and ask questions when you don't know something.
What is the most difficult aspect of your job? Having to tell clients tough news, I love to share good news, but bad news is a part of our job as well, whether it be a price reduction to a seller or telling a buyer their offer didn't win them the home; it's hard to deliver tough news.
What was your worst job, and what did you learn from it? After working retail in the mall growing up, I vowed to never ever work retail again and only work in jobs that related to my field.
Where do you go to network and meet new clients? I like to give my current clients such excellent service that they refer me to their family and friends in the future.
What has been your greatest accomplishment? Running my first Chicago Marathon, it gave me the strength to believe I could do anything I set my mind to
What was the last good movie you saw or book you read? "The Curious Case of Benjamin Button"
What is your favorite restaurant? This is tough, but I would have to say Piece Pizzeria & Brewery
Architecturally speaking, what is your favorite building in Chicago? The Sears Tower
What kind of car do you drive? Silver Acura TL
BlackBerry, Palm or paper? "Crackberry" for sure
What is your favorite city after Chicago? I love visiting New York, but would have to say Lahaina, Maui
What is your personal motto? Sing like no one can hear you, love like you've never been hurt, dance like no one is watching.
In 10 words or less, what is your advice for someone new to the industry? Treat everyone like you want to be treated!