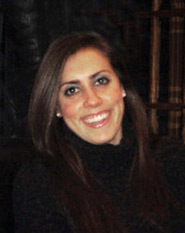 Realtor, Coldwell Banker, Lincoln Park Plaza
What was your first job in the realty industry? Development sales agent at Delaware Place Private Residence.
Who inspires you? My parents. My dad's amazing work ethic, diligence and attention to detail have set the bar very high. He is a broker, and I strive to have the kind of success he has had. My mom is one of the most selfless people I know. She manages a nonprofit organization that gives homemade blankets to seriously ill children. She inspires and reminds me that we should constantly strive to be something bigger than ourselves.
What is your favorite free-time activity? Just hanging at home with my husband and our two Maltese pups.
How did you learn the business? I had a week of training to sell development projects and then it was pretty much sink or swim. Most of what I have learned has come from some incredible, experienced agents that have served as my mentors. I have also learned from my own mistakes, which have provided the most valuable lessons to date.
What was your most difficult sale, and how did you succeed? The most difficult sale was when I had to sell one of my boss's personal properties. It was a very emotional sale on both sides. It was days of negotiating back and forth and the offer was great; however, nothing seemed good enough. I finally succeeded by asking the sellers to step back from the situation and really think about the offer overnight. I asked them to consider all the time and effort that I had put into the deal, and that if nothing else than for my sake, to please reconsider accepting the offer. They called me the next morning and accepted the offer.
What is the most difficult aspect of your job? The most difficult aspect is trying to balance my time between prospecting for new clients and managing my existing book of business. Ensuring the best service possible for each of my clients is my top priority.
What was your worst job, and what did you learn from it? I worked on the sound insulation program at O'hare Airport in the middle of winter. I had to design ways to sound insulate each of the homes in the neighborhoods surrounding the airport. The position itself was great, except I had to inspect the construction in zero-degree weather all winter long. I think it was the longest winter of my life! I learned a tremendous amount about home construction that has directly translated into a valuable tool in my real estate business, and a great asset to my clients.
What has been your greatest accomplishment? I had the opportunity of managing the entire sales division for two major high-rise developments — one worth $60 million and the other worth $100 million — before I was 30 years old. I could never have imagined that I would be in that position after four or five years in the business. I am very thankful for the opportunities I have received, but they came with a great deal of hard work.
What was the last good movie you saw or book you read? I am a movie freak, and have to see almost everything as soon as it comes out. Two of my favorites that I saw recently are "Slumdog Millionaire" and "Milk," both were incredible!
What is your favorite restaurant? Topo Gigio, Luxbar, P.J. Clarkes and Rockit are all at the top of my list.
What kind of car do you drive? Ford Explorer
BlackBerry, Palm or paper? Crackberry all the way!
What is your favorite city after Chicago? Are there other cities? Only kidding, I love San Francisco and Boston.
What is your personal motto? "Perfection is not attainable, but if we chase perfection, we can catch excellence." – Vince Lombardi