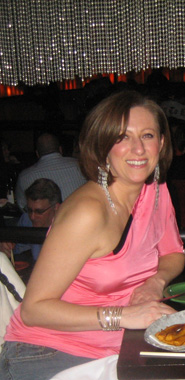 @properties, Evanston
What was your first job in the realty industry? I got into it head first! I had my first transaction within three months and thought the hot market would last forever because that was all I knew.
Where did you grow up? I was born in Wroclaw, Poland and matured in the U.S. I refuse to grow up.
What is your favorite free-time activity? Horseback riding, hanging out with my dogs, watching movies and anything to do with water
What do you do to relax when you're stressed? Bubble bath, candles and a glass of wine – need I say more?
If you weren't a Realtor, what would you be? Either a host for a show combining travel and cooking or a journalist
If you could have lunch with a well-known figure (living or not), who would it be and why? Oscar Wilde – because he would have me thinking and laughing all at the same time, and that's a bomb combination.
What is your favorite place to "hang out?" Any backyard with great friends, good food and libations
What is the most difficult aspect of your job? Educating the public that driving them around and opening the doors is only a minute portion of my job
Where do you go to network and meet new clients? I am Miss Social – I network everywhere, I was facebooking from an ambulance after my car accident to let my friends and prospects know that their favorite Realtor is trying to sell a house to the paramedics.
What has been your greatest accomplishment? Translating holocaust survivors' interviews for Steven Spielberg's Shoah Foundation from Polish to English to honor my Polish grandmother. I am a certified translator and interpreter as well.
What was the last good movie you saw or book you read? "The Last Lecture" by Randy Pausch
What is your favorite restaurant? Hole in the Wall in Northbrook
Architecturally speaking, what is your favorite building in Chicago? The Rookery at 209 S. LaSalle, designed by Burnham and Root, and the lobby by Frank Lloyd Wright. The building exemplifies vision, collaboration and teamwork at its best. And I love the light! Water Tower also for its beauty and resilience.
What kind of car do you drive? Toyota 4Runner, it is my dogs' car
BlackBerry, iPhone or Paper? BlackBerry, because it is easier to text with my nails, but all those cool apps may convince me to switch to iPhone
What is your favorite city after Chicago? That's like asking which chocolate I like best: San Francisco, Amsterdam, Cracow and Cannes
In 10 words or less, what is your advice for someone new to the industry? Plan, prioritize, perform, play, repeat.