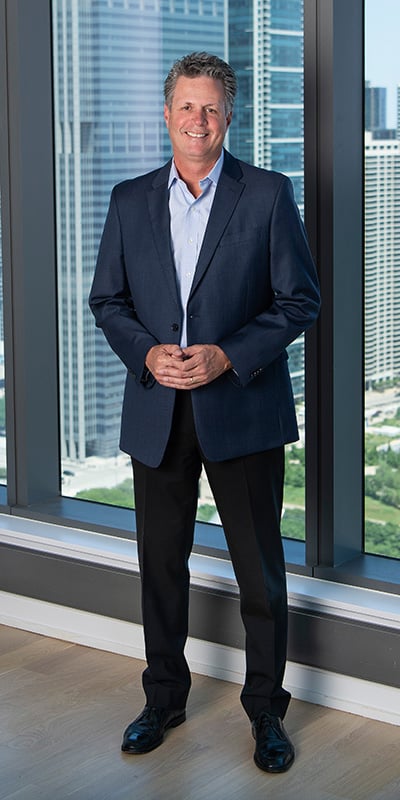 After three years as a trader at the Chicago Board Options Exchange, Bruce Bufe was ready for a new direction. "I've always been very entrepreneurial and passionate about finance," he says. "I loved the activity level of trading, but I wanted a career with more stability." Bufe found that stability in a field that values lifelong relationships over split-second trades. He became a mortgage loan officer.
Today, Bufe is a mortgage industry veteran with three decades of experience. As a senior vice president of residential lending at the Northbrook branch of Draper and Kramer Mortgage, he serves clients across Chicagoland and the country. Over the course of his career, he has closed well over $1 billion in home loans, and trade publications Scotsman Guide and Mortgage Executive Magazine rank him among the top 1% of all mortgage originators in the nation.
"Problem-solving is my expertise," Bufe says. "Being able to turn one of the biggest purchases of a client's life into a smooth, comfortable transaction is extremely important to me." His reviews from past clients confirm his results, with many praising his professionalism, availability and responsiveness.
From first-time homebuyers to high-net-worth borrowers to homeowners seeking reverse mortgages, Bufe works with all kinds of clients. "I have grown up with my clients, helped them buy their first condos, starter homes, family homes, lake homes and finally, multimillion-dollar homes," he says. Bufe is also an important partner for real estate agents and financial planners, serving as a reliable source of home financing and offering co-marketing support to grow their businesses.
As the housing and mortgage markets enter a new chapter, Bufe sees a continued need for seasoned loan officers like himself. "As much as we would like to be able to press a button and get a mortgage, it will never really happen like that," he says. "People still need the personal advice, guidance and knowledge of an expert, and I'm here as that expert."