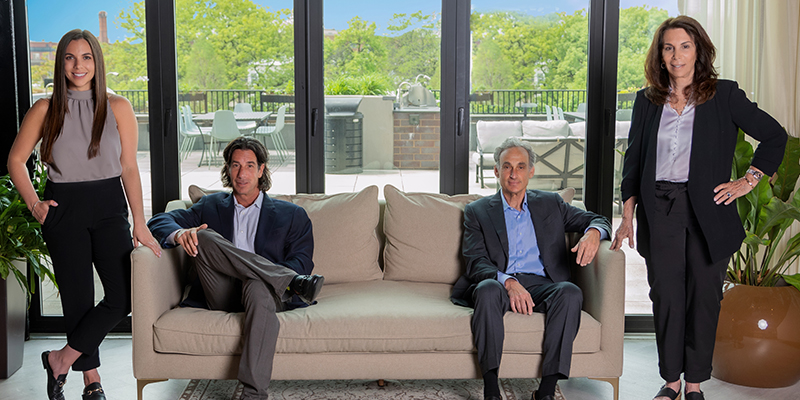 Margie Brooks, Associate Broker
Lanny Brooks, Managing Broker
Tom Brooks, Associate Broker
Hannah Brooks, Associate Broker
Known as a "walking MLS," Margie Brooks boasts an unparalleled knowledge of Chicago's real estate market. Sharing 28 years' worth of industry experience, Brooks serves residential buyers, sellers, investors and developers throughout the North Shore. "I first got into this business because I love connecting with people, am very ambitious and care deeply about my community," says Brooks, a broker with Baird & Warner and leader of her own real estate team.
Joined by her husband, Lanny, a managing broker; her son, Tom, and daughter, Hannah; both associate brokers; and two additional associates, Johannah Sapienza and Lindsey Dickinson, Margie leads by example. She ranks among the Top 10 Realtors in Lake County and has previously earned the title of Industry MVP. As a team, the group consistently places among the Top 1% for Baird & Warner. "When people think of real estate in Highland Park, they think of us," Margie says. "Our integrity has earned us loyal clientele who provide referrals and repeat business."
Entering the real estate industry in 2003, Lanny previously founded and managed a trading group on the Chicago Board Options Exchange. Hannah earned her license after her college graduation in 2012 and also sells real estate in the Sun Valley area with her fiancé, Danny Sundali. Like his father, Tom also worked in trading on the options exchange prior to gaining his real estate license and joining the family business in 2016. "We each have our own strengths," says Margie, adding that they stay abreast of each other's deal bases.
Appreciated for their dedication, Margie and her team guide their clients, supplying them with all the tools they need to navigate buying and selling in the current market. "We want our clients to feel prepared," says Margie. "We are passionate about this business, and it shows in every deal."