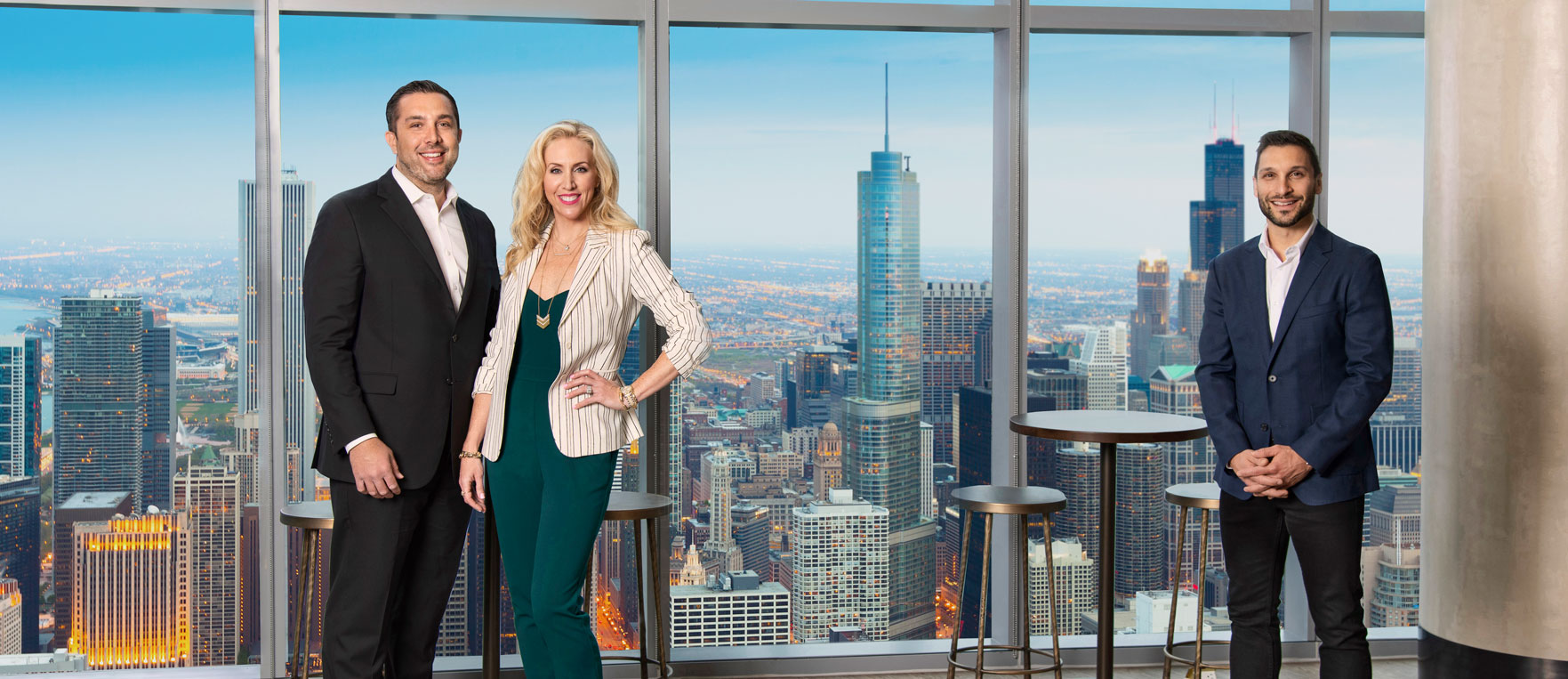 Juliana Yeager | Realtor
Benjamin Yeager | Realtor
Francesco Fiorentino | Realtor
For Juliana and Benjamin Yeager, real estate comes naturally — and the proof is in the results. Since joining forces more than a decade ago, this husband-and-wife duo has become a leader in the industry. Their team regularly ranks among the Chicago Association of Realtors' top 1 percent in terms of production, with over $55 million in sales in the last two years and more than $185 million in career sales.
Together, Juliana and Benjamin offer a client-centric approach rooted in building trust and developing long-term relationships with clients and communities. "Our business is powered by referrals from loyal clients who are confident that we not only offer the best negotiating skills and marketing strategies but also will be the most attentive to their interests," says Juliana. "We lend our guidance and expertise at every stage of the transaction to ensure a smooth and successful experience."
Both proud Chicagoans, Juliana and Benjamin reside in the Lakeview neighborhood with their three children. Although the Yeager Team serves clients at all life stages, their firsthand knowledge of schools, parks, local businesses and community organizations has allowed their name to become synonymous with raising kids in Chicago. "Guiding growing families is what keeps me motivated and passionate about my career," says Juliana.
Benjamin notes that the niche offers a great deal of transferable information. "The knowledge we have gained through our own experiences raising our kids in the city helps us serve all of our clients, as we can predict the long-term investment and who their future buyers may be," he says.
Alongside Benjamin and Juliana, Francesco Fiorentino, a former client turned broker, covers the Chicago and western suburban markets. With years of experience in luxury leasing, he understands how to match high-net-worth clients with the perfect properties. In 2018, his first year, Fiorentino exceeded his sales goals and has established a great foundation for long-term success. Neil Ward rounds out the team as the director of operations.
"We credit our success to the same values that we live by every day," says Benjamin. "Hard work, trust, relationships and integrity."