Comparing Chicago with what's going on with housing nationally offers a view of two divergent markets. RE/MAX's latest Chicagoland housing report reveals a decline in home sales by 3.2 percent while national home sales increased by 3.9 percent. However, the available housing stock in Chicagoland reported a 5.2-month supply, almost double the national inventory.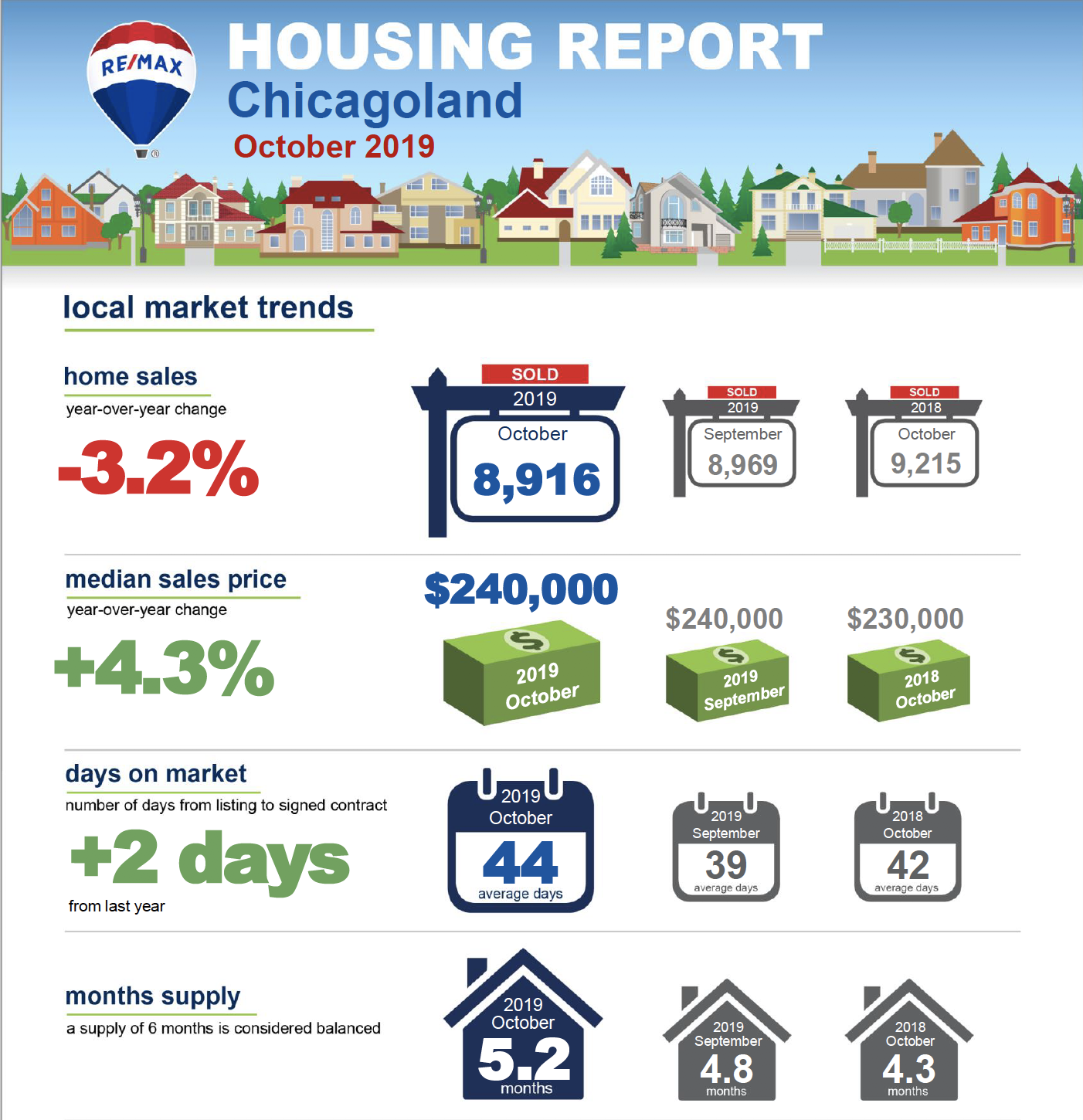 Both nationally and locally, the market has seen high demand, pushed up partially by low interest rates. But this challenges buyers, according to Adam Contos, CEO of RE/MAX Holdings. "Demand is strong, due in part to low interest rates, but buyers have limited options because inventory remains such a challenge," said Contos. "As a result, prices keep rising. Fortunately, key forecasts suggest an increase in new homes moving onto the market next year, which would help address the inventory situation and potentially slow the steady price gains we've seen for so long."
Looking at year-over-year data, Mark Fleming, chief economist at First American, noted that the housing market is currently blowing past expectations. "In October 2019, the housing market exceeded its potential, as actual existing-home sales exceeded market potential by 4.6 percent, or an estimated 239,000 seasonally adjusted annualized sales," Fleming said. "Housing market potential decreased relative to last month, but increased 0.6 percent compared with October of last year."
There was also a stark differential between the local picture and the national view when it comes to prices. The median sales price in Chicago increased by 4.3 percent while the national median sales price went up 8.4 percent.
There were some local hot spots. RE/MAX noted that the most growth shown in the Chicagoland area was seen in Kendall County, with an increase of 17.8 percent in home sales. Additionally, Kendall increased 6.8 percent in median sale prices from last year's sale prices.
Mainstreet Organization of Realtors released monthly sales numbers today, though theirs concentrate on the Chicago suburbs. They found that some of the strongest increases in home prices in West Chicago (with an increase of 31.9 percent), Glen Ellyn (28.7%), Schaumburg (22.4%), Aurora (21%) and Orland Park (16.9%). In contrast, Darien saw the biggest decrease in prices, with a 17.9 dip. The municipality was followed by Hinsdale (-17.6%), Wheeling (-16.9%), Arlington Heights (-16.3%) and Elmhurst (-14%). The organization's interactive map below offers more detail on individual market activity.