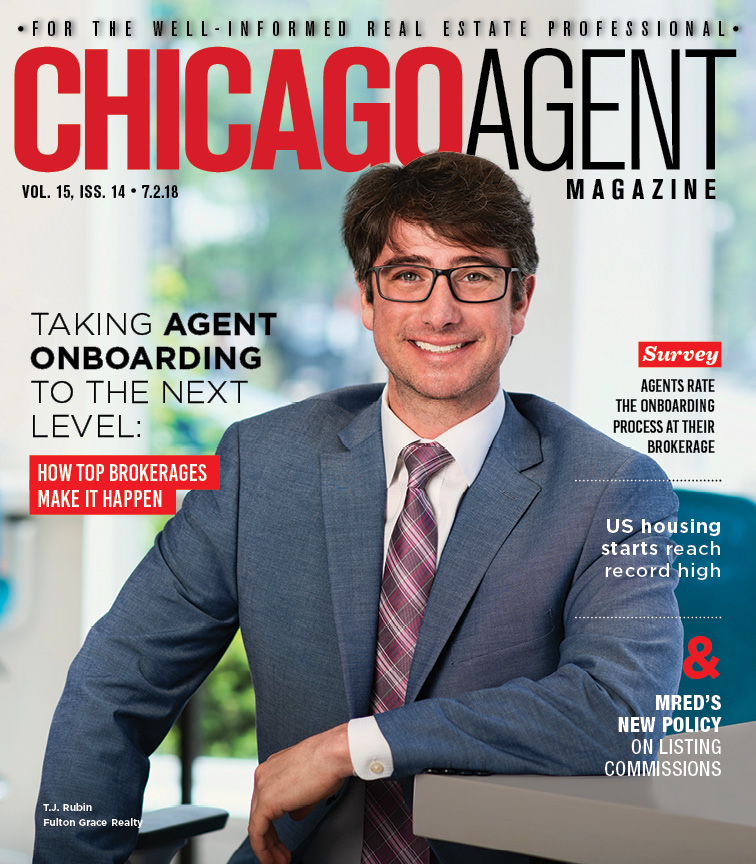 The prospect of training new agents can be daunting even for experienced managing brokers. They have to find and mentor people with the right education, training, skill set and drive to succeed in the business. They must also balance the needs of their new agents with those of the agents already working in their office so that everyone can remain as productive as possible.
The process of getting new agents in the field — even those with little or no professional experience — can go smoothly with enough preparation. In particular, managing brokers and trainers can make the process seamless by utilizing well-established systems to bring new agents up to speed.
Fulton Grace Realty founder and managing broker T.J. Rubin breaks the process down into five steps, beginning with an orientation period with the company's agent coordinator, followed by meetings with Rubin and other company executives, including the heads of the sales, rentals and marketing departments.
"Through each of those meetings, they get a really good idea of the entire offerings of the firm and what type of support is available," Rubin says. "Usually that happens within the first month or so of them stepping on board."
The agents also rotate through Fulton Grace's three offices to meet their colleagues and supervisors at each location and develop a feel for the company's culture. "I think developing personal connections with the supervisors, the ones that are actually training them, helps them forge strong relationships with the people on our team that help them grow," Rubin says.
Michael Simpson, managing broker at Baird & Warner in Algonquin and the president-elect of the Realtor Association of the Fox Valley, says his company uses a two-pronged approach to bringing in new agents.
It starts with a local component that Simpson and the sales support manager conduct with each new hire. They go through a checklist of about 50 items that include paperwork, a tour of the office, handing out keys and setting up accounts. For the second part, they go to the company's corporate career institute downtown. They attend classes for seven days over a two-week period.
"It's not magic or rocket science," Simpson says. "It's very structured, it's scheduled and it's tracked. There's a lot of accountability built in around it. One of the key components is the discussion about what's going to happen for them in the first month to 90 days, for them to understand what that process looks like."
Keller Williams makes extensive use of proven strategies to make sure agents are performing to the best of their abilities. The company's Career Growth Initiative in particular helps agents define their goals and equips them to succeed, says Stacia Thompson, director of Keller Williams University, which provides a curriculum of multimedia courses that address all aspects of the real estate industry.
"Whether they're entirely new to the business or seasoned, successful agents, it gives our agents a way to identify exactly what they need to fund their lives," Thompson says. "It works them backwards from how much profit they want to make on an annual basis and shows them which numbers they need to hit in their business on a monthly basis to achieve that goal."
---
More in this issue
MRED's new policy on listing commissions
Agent training made easy with AgentEDU
Survey—Agents tell us: Are you getting the right training?
Tools for training
With their goals in place, Keller Williams agents are directed toward education through Keller Williams University and its online component, KWConnect. Additional help in building skills and developing the discipline needed to reach their goals is offered to Keller Williams agents through the Mega Achievement Productivity Systems (MAPS) Coaching program.
"By supporting our people and identifying their goals and getting them into training that is right for them, we're helping to support them in achieving what they want to achieve by showing them exactly what they need to do," Thompson says. "We're helping them think like business people from the moment they join us by setting goals and showing them what they need to do to achieve those goals."
Agents joining Fulton Grace Realty go through a series of classes called the Core Eight taught by the head of the company's sales department. It consists of one course per week on a different topic, such as business planning and database marketing.
"All of our new agents are enrolled in that program," Rubin says. "It's not required, but it's strongly suggested. It helps them learn not just about the process but meet their fellow agents and supervisors. One of our core classes is called The Tools of Fulton Grace. Essentially it's one class dedicated to putting everything they've learned into practice with the marketing tools offered by Fulton Grace."
Rubin makes use of the online video courses available from AgentEDU as a training resource, often weaving the videos in as supplemental material to help new agents understand the material. The on-demand, 10-minute video courses can be accessed anywhere and at any time, which is a major selling point for agents who are not always 9-to-5 people.
"They give tangible step-by-step how-tos that teach the business of real estate, and not just the theory, in this snackable, 10-minute version," Rubin says. "It's not an hour-long lecture where people get zoned out. They get to the point and are very good about showing how to accomplish this, like how to treat a buyer consultation or a seller consultation."
Much of Baird & Warner's training is in-house through the Baird & Warner Online Institute, but Simpson also makes use of AgentEDU in his one-on-one coaching sessions with agents as a means of helping them overcome challenges.
"If I have someone who comes in, it's either a pricing issue or an issue with working with the seller to help them understand the realities," Simpson says. "I'm going to push them to AgentEDU or a resource like that and tell them they need to study a little bit, take a look at these resources and pick up some tools, techniques and guidelines to use to get through this issue."
Meeting challenges
A solid foundation built on sound training can help agents overcome significant challenges within the industry. The leadership team at Keller Williams views the effective use of technology as a substantial stumbling block for many agents, Thompson says. To that end, the company has developed an innovation engine featuring industry-specific cloud data overlaid with an artificial intelligence platform called Kelle that they can access anywhere.
"Our associates are able to get insights that can fuel their conversations with consumers," Thompson says. "In the palm of their hand, they're able to get some insight. Our training incorporates all of that technology so our people are able to implement our systems and models through the technology."
Teaching agents to see the value of patience and keeping them focused on their goals can challenge managing brokers.
"For our newer agents, it's a very competitive market," Rubin says. "Teaching them how to really farm their database and getting them to understand that success doesn't happen overnight, that they really have to stick with it and the day-to-day exercises, is important. Going to the gym, you don't see yourself getting fit within a week. You have to do it for a while. We have to keep them aware that it does take a while to build up their business. We try to get them as many positive results as we can as quickly as we can. When they start seeing positive results, they start investing more of their time to further training."
Simpson recommends that managing brokers stay engaged with the onboarding process and avoid delegating too much of that work. New agents should be treated as the resources they are so that they remain productive and want to stick around.
"I can recruit eight hours a day, bring in a ton of people, put them in a desk or somewhere in the office and say, 'Here's the MLS, have a good time,'" Simpson says. "I would do all right with it, but we're not a brokerage for just driving up the number of employees. It's way more important to me to have agents that are productive. Productivity helps me, helps the office and certainly helps them and takes them into the game."