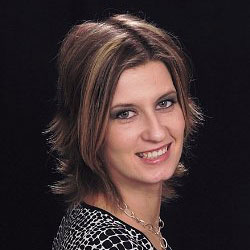 What was your first job in the realty industry? Realtor.
Where did you grow up? I grew up in Chicago and moved to the northwest suburbs in sixth grade. I've lived in the northwest and west suburbs ever since.
Growing up, what did you want to be? I always wanted to help people. It was always something I wanted to do.
What do you do to relax when you're stressed? I enjoy going for walks or just taking a break and spending time with my kids and family.
If you could have lunch with a well-known figure (living or not), who would it be and why? This one is a tough one. I would have to say Joanna Gaines from "Fixer Upper." I love her designs and love how she can mold so many different styles and create such beautiful spaces.
Where is your favorite place to hang out? Home.
What do you love most about the industry? I love the opportunity to help so many people make their dreams come true of owning a home. The relationships I have been able to build, and the growth that I have encountered from each and every client, is really amazing. This business allows you to not only meet so many great people, but also learn about different cultures, industries and so much more.
How do you distinguish yourself from the crowd of agents? I work from the heart. I care about my clients and get to know them. This allows me to better help them with their real estate needs. Building a relationship is the foundation of helping my clients. It's one of the largest investments that they will ever make, it impacts their family and it is a place that they will make memories. Being part of that and having that trust is really what my clients love most about me.
What is the most difficult aspect of your job? When things don't work out for my clients — whether they missed out on a home due to multiple offers, or a deal fell apart on their sale. It's always so hard to have that type of news. Luckily, I believe everything happens for a reason and we work hard to get the next one.
Where do you go to network and meet new clients? I am naturally a talker, so anytime I am near people, I love to talk. Whether it's at my girls soccer games, grocery store, etc. I always try to meet new people and potential clients. I also network on social media and at my daughter's school, and have a great network of referral business.
What has been your greatest accomplishment? Continuing to grow my business year after year with managing being a full-time Realtor and a full-time mom of two daughters.
What was the last good movie you saw or book you read? "Gifted," "Ready the 10x Rule."
What is your favorite restaurant? Cucina Bella in Algonquin. I love Italian food!
Architecturally speaking, what is your favorite building in Chicago? Chicago has some amazing architecture that offers a mix of history and modern building. One of my favorites is the Water Tower in downtown. The building is just beautiful and holds so much history.
What kind of car do you drive? 2017 Dodge Durango.
Smartphone or paper? Technology is great, but I still use paper.
What is your favorite city after Chicago? There are many great communities outside of Chicago. Some of my favorites are St. Charles, Gilberts and Naperville.
In 10 words or less, what is your advice for someone new to the industry? Put people first and always be there for them.
What's your favorite real estate iPhone/Android app? ShowingTime.
Who are your favorite people to follow on Twitter? Architecture & Design, Joanna Gaines, Design & Decor.