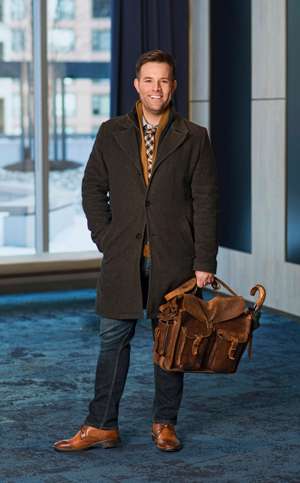 Number of years in real estate: 4
What do you consider a "fashion don't"? Initials on your clothing where others can see (did your mom send you to fancy camp?). I hate logos. The brand works for you; you don't work for the brand. Unless you're in a biker gang, men are only allowed a precious few accessories (tie bar/watch/pocket square), so we've gotta make 'em count.
What is your favorite piece of clothing? It's probably my ratty old ball cap I still have from college. The proceeds went to the Southern Foodways Alliance. It says, "Make Cornbread, Not War."
What do you consider a must-have accessory? A signature scent for summer and one for winter.
What is a fashion crime you have committed in the past? Turtlenecks. My wife was right. It was a bad call. I thought I looked like a Russian submarine captain. I was wrong; she was right. It's no longer in the house.
Where are your favorite places to shop? On vacation abroad. I mean, that's the best, right? When people ask you where you got something, you get to tell a story. This alpaca scarf was gifted to me by an Aymara elder when I was in Bolivia. See?
What, besides your wardrobe, completes your look? A good attitude. I'm quick to smile. I once read a study that concluded average people who smile are better looking than attractive people who don't.
What is in your bag/briefcase? Pens, phone charger, MacBook Air, moleskin notebook, sunglasses, an umbrella and usually a copy of Crain's Business. I try to just carry an iPad when I'm on showings.
My closet is full of…Curated, minimalist pieces.
Wooden and stainless steel wedding band: Moissue in Taiwan; leather dress shoes: HOAX in Hong Kong; Alpaca scarf: Bolivia; Mico wallet: Bellroy; watch: Komono; overcoat: Kenneth Cole; shirt: Fletcher Jones Hong Kong; plaid wool tie: ("My grandfather's. He would have loved that I was in a style spread. He was quite the clotheshorse."); leather belt: Suit Supply Chicago; traveler jeans: Banana Republic; leather satchel: Díaz bags from Antigua, Guatemala