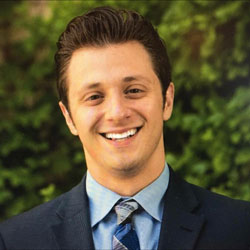 What was your first job in the realty industry? My current role: sales consultant at Pulte Homes.
Where did you grow up? Detroit.
Growing up, what did you want to be? A custom home builder.
What do you do to relax when you're stressed? I like to go on long runs or swim.
If you could have lunch with a well-known figure (living or not), who would it be and why? Richard Branson. I have read multiple books that he has written. I find that he takes his weaknesses and turns them into strengths, he always says "yes," and he is truly the most inspiring entrepreneur I have ever read about.
Where is your favorite place to hang out? At a local coffee shop.
What do you love most about the industry? That every day is completely different from the next.
How do you distinguish yourself from the crowd of agents? I work only and specifically in new construction real estate, which involves an entirely different process than working with existing-home sales.
What is the most difficult aspect of your job? Not getting overly excited when times are busier than ever!
Where do you go to network and meet new clients? Realtor events and referrals.
What has been your greatest accomplishment? Sticking through the hard times when things may seem difficult.
What was the last good movie you saw or book you read? "Finding My Virginity," Richard Branson.
What is your favorite restaurant? Quartino.
Architecturally speaking, what is your favorite building in Chicago? Wrigley Field!
What kind of car do you drive? '08 Mercedes E350.
Smartphone or paper? Paper all day.
What is your favorite city after Chicago? Rome.
In 10 words or less, what is your advice for someone new to the industry? Have patience and have fun.
What's your favorite real estate iPhone/Android app? Redfin.
Who are your favorite people to follow on Twitter? Richard Branson and Mark Cuban.