In Realtor.com's annual Best Places to Live list, Schaumburg came in at No. 9 for its strong business climate, investment in public facilities and amenities, proximity to Chicago and great education. The northwest suburb's website boasts that it has more businesses than any other Illinois city besides Chicago, which generate plenty of jobs.
Parents in Schaumburg can rest easy that their children will get a great education — the village's school district scored 10 out of 10 on GreatSchools.org. The village's district library also is one of the biggest in the state.
On the weekends, they'll have plenty to do, as the village invests ample resources to public parks, including the new Bison's Bluff Nature Playground, Realtor.com reported. They also can hit the massive Woodfield Mall, get cultured at the Prairie Center for the Arts or, if they're in the mood for more hustle and bustle, hop on a Metra train and be in Chicago in an hour.
While Schaumburg is the only Chicagoland representative in the Best Places to Live top 10, some others ranked in the top 100, including:
Wheaton, No. 27
Villa Park, No. 28
Des Plaines, No. 35
For its annual Best Places to Live list, Realtor.com teamed up with Money magazine for the first time, meaning researchers had access to more data than in previous years. The analysis focused on towns and cities with populations between 10,000 and 100,000, according to Realtor.com. Researchers looked at several criteria, including housing market cost and growth, economic health, cost of living and public education.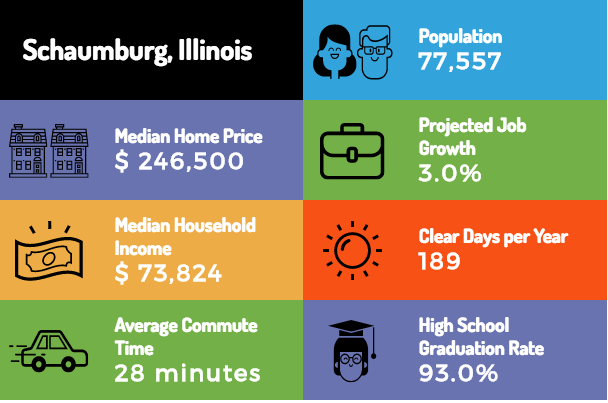 Source: Realtor.com