Robin Balbo, Agent, Conlon Christie's, Sauganash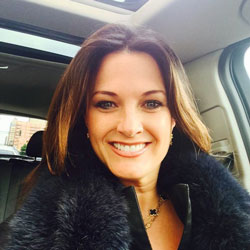 What was your first job in the realty industry? Selling real estate for Coldwell Banker in Destin, Florida.
Where did you grow up? I grew up in the Upper Peninsula of Michigan. We owned land on American Indian soil. And I used to complain to my father that since it was reservation land, we did not in fact have the right to dig up our one acre of potatoes, as the potatoes actually belonged to the Indians. But, I still had to dig up one acre of potatoes by myself.
Growing up, what did you want to be? An international businesswoman. And with Conlon Christie's, I am able to do this. I love my commercial side of German business, and luxury and hotel side in Italy. We are seeing an entire entrepreneurial generation retire in Italy.
What do you do to relax when you're stressed? Tend to my home. I love a well-managed home.
If you could have lunch with a well-known figure (living or not), who would it be and why? I would have lunch with George Washington. He is a blood relative. I have been told that it would be boring, as he was quiet. But I can get anyone to laugh and talk.
Where is your favorite place to hang out? At home with my son and our Border Collie.
What do you love most about the industry? Taking care of multicultural people.
How do you distinguish yourself from the crowd of agents? Being very well-dressed.
What is the most difficult aspect of your job? I work 18 hours a day. About the fourth day in a row, I crash.
Where do you go to network and meet new clients? At my church.
What has been your greatest accomplishment? Raising an honest and integrity-based child.
What was the last good movie you saw or book you read? Ha! I'm a Realtor and a single mom. I fall asleep 10 minutes in.
What is your favorite restaurant? Gibson's.
Architecturally speaking, what is your favorite building in Chicago? Carbon and Carbide. It takes my breath away.
What kind of car do you drive? 2016 Mercedes Benz GLC 300.
Smartphone or paper? Both.
What is your favorite city after Chicago? Venice, Italy — my second home, literally.
In 10 words or less, what is your advice for someone new to the industry? Go to every training class you can!
What's your favorite real estate iPhone/Android app? Park Chicago, the app for parking. It makes my life easier.
Who are your favorite people to follow on Twitter? @Christiesrealestate and @Cheflorenzoboni (the head chef at Bari pasta company). He is incredible — and sexy too!