Removing barriers to condo ownership for veterans
by Barbra Murray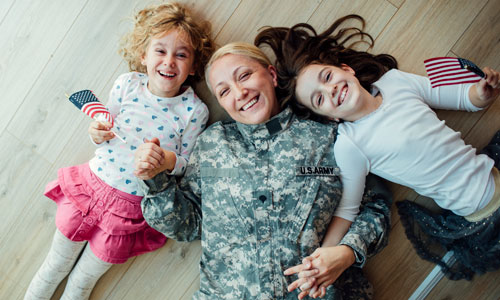 With the VA guaranteed home loan program currently providing borrowers the potential for 100 percent financing of up to $424,100, the condominium market can offer a veritable smorgasbord of opportunity, versus the less expansive selection of offerings in the higher-priced single-family sector. However, veterans pursuing condo ownership can be met with unexpected difficulty, and that is where David Piatek steps into the picture.
Piatek, president of the Veterans Association of Real Estate Professionals – Chicago Chapter, helps veterans and their families understand the financial landscape of buying a home, including the oft-misunderstood process of purchasing a condo. He can help clarify any imprecise impressions that might have crept into the subconscious of the real estate community as well.
One of the misconceptions Piatek works to dispel on a regular basis has everything to do with time. "A stigma in the consumer space and the real estate space which I still come across every day, is they say it takes 60 to 90 days to get a condo VA-approved, when it's really not the case," he says.
For its purposes, the VA divides the country into markets, and through the Saint Paul Regional Loan Center, it takes an average of approximately 10 days to secure VA approval of a condo project in Chicagoland, according to Piatek.
Another false impression that frequently plagues the hopeful condo buyer relying on a VA loan, lies on the agent or seller side of the equation. With the possibility of more than $400,000 in financing, sans down payment, Piatek says, "Sometimes people think because there's no skin in the game, that the homebuyer is not financially strong." In truth, it's quite the opposite.
Because the interest rate on a VA loan is typically much lower than a conventional loan, and given that no down payment is required, the borrower has more money in the bank. Those with a VA loan also get to forgo the cost of private mortgage insurance.
Changing old beliefs, informing new ones
Piatek believes the road to condo ownership for veterans can be smoothed through greater communication, not just with potential buyers, who are often not aware of their earned benefits in the housing arena, but with real estate agents and lenders as well.
Piatek, who is also an active sergeant in the Illinois Army National Guard, is particularly well-suited to skillfully erasing misconceptions through enlightenment. For the last year he's been partnering with managing brokers and the like to perform workshops for Realtors on how the VA home loan and condo approval process works.
The goal is twofold, the first part of which is to empower agents to educate veterans on their benefits and why they should use them. "You can pull 10 veterans out of a lineup and if you ask them how the benefits work, most of them would tell you it's a negative to work with the VA to do a loan," he says.
The second half of the objective is to open a new source for agents. Veterans represent 18 percent of buyers in the market, according to the National Association of Realtors 2016 Veteran and Active Military Home Buyers and Sellers Profile. It's an oft-overlooked demographic, Piatek says, noting that many agents miss an opportunity by not inquiring if a potential homebuyer is a veteran — or by not pointing out to a homebuying veteran that a VA loan can be used to purchase a condo, a single-family home or a two- to four-unit multifamily building, thereby providing both a home and rental income in a single package. Additionally, the workshops leave the agent with an immediate point of contact to share with their clients in the veteran population. Someone who, as Piatek remarked, speaks their language, right down to a common penchant for speaking in acronyms.
The solution to any misconceptions, he says, is simply getting in front of real estate professionals and educating them through workshops. However, Piatek doesn't stop there. He works with nonprofit organizations and spends a great deal of his personal time leading seminars across, even beyond Illinois borders. "If one possesses the knowledge and is in a position to influence change, it's a shame not to," he says. "That's why I'm out there like a crazy man."