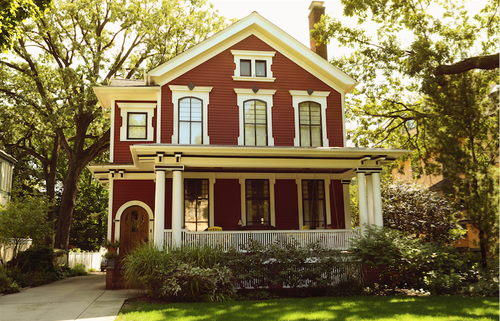 Much of the Chicago area is still recovering from the housing market collapse, but a number of suburban markets are seeing significant gains in their property values. Eight suburbs have seen their values rise by at least 50 percent since 2000, according to a new study by the Institute for Housing Studies at DePaul University.
Only Calumet City/Harvey and Chicago Heights/Park Forest have seen an overall decline in prices since 2000, suggesting that much of Chicago's suburbs are on their way to recovery. And while they're on their way, suburban gains in home value have been eclipsed by those seen in some Chicago-proper markets: of the local markets with the biggest gains in home value since 2000, the highest ranking suburb is Oak Park/Cicero at ninth.
The suburban real estate market is in a still in a state of critical recovery. Housing prices have increased significantly, but no suburban market included in DePaul's study has yet recovered its peak value from the pre-collapse years. Four city markets have seen their 2016 home values eclipse their pre-recession highs, according to DePaul.
Related: Home values in these Chicago neighborhoods are skyrocketing
Winnetka/Northbrook (-8.4 percent) and Schaumburg (-9.6 percent) are the only two suburbs that are close to returning to their pre-recession peak value while Calumet City/Harvey (-47.1 percent) and Chicago Heights/Park Forest (-40.5 percent) are the farthest away, remaining at the bottom of the barrel in more than one category of change.
In year-over-year sales, Oak Park/Cicero sales grew by 9.2 percent and Evanston/Skokie grew by 6.9 percent. Park Ridge/Des Plaines and Chicago Heights/Park Forest ended with the highest number of sales both surpassing 2,200 in total by the fourth quarter of 2016. Arlington Heights/Wheeling and Schaumburg had the lowest numbers of sales, both remaining below 1,500.
Winnetka/Northbrook has seen the third greatest change in sale prices (64 percent), and the highest median sales price ($650,000) in the suburbs in 2016. Calumet City/Harvey has the lowest median sales price ($64,500) and has seen a depreciation in price by -14 percent.
Check out the list of suburbs with the least and greatest home value gains since 2000:
| Neighborhood | Median Sales Price 2016 | Change since 2000 | Change from peak Bubble-era price | Year-over-year change | Sales 2016 |
| --- | --- | --- | --- | --- | --- |
| Oak Park/Cicero | $219,000 | 67.40% | -18.60% | 9.20% | 1,610 |
| Schaumburg | $255,000 | 65.50% | -9.60% | 5.40% | 1,240 |
| Winnetka/Northbrook | $650,000 | 64.00% | -8.40% | 1.30% | 2,127 |
| Evanston/Skokie | $336,000 | 55.90% | -17.70% | 6.90% | 1,765 |
| Arlington Heights/Wheeling | $315,000 | 55.40% | -14.00% | 1.60% | 1,294 |
| Mount Prospect/Elk Grove Village | $295,000 | 54.60% | -15.80% | 4.20% | 1,207 |
| Orland Park/Lemont | $258,000 | 54.20% | -17.40% | 1.80% | 2,045 |
| Park Ridge/Des Plaines | $305,000 | 54.20% | -18.60% | 5.40% | 2,240 |
| Chicago Heights/Park Forest | $104,750 | -3.90% | -40.50 | 5.80% | 2,286 |
| Calumet City/Harvey | $64,500 | -14.00% | -47.10% | 6.40% | 2,088 |