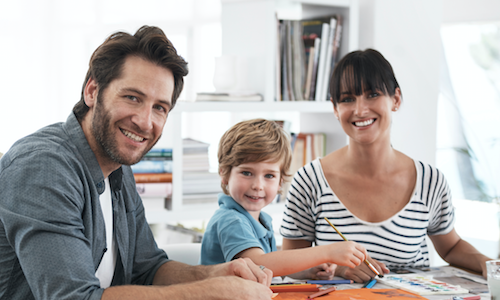 All parents want their children to go to a good school, but not all parents can afford to live in the districts that house them. That's not the case in Oak Park, according to a recent analysis from HomeUnion.
"The quality of public schools is one of the most important factors to consider when buying a home, especially for families," said Don Ganguly, CEO of HomeUnion.
But while the want for a good education is universal, the ability to provide it is limited. You need money, Ganguly added.
"In many cases, home buyers are willing to pay more to be located in a neighborhood with highly ranked schools, even if it means downsizing into a smaller home."
It is a trend the country over that a city's best schools are nestled in the neighborhoods where the median home price is more akin to luxury than middle-class.
Last year in Glencoe, homes surrounding the renowned West School sold for a median price of more than $900,000, according to RealtyTrac. In Houston, $1.13 million could get you a place within the district lines of the highly-rated West University Elementary School. The correlation is seen from coast to coast and border to border.
But there are some areas where that trend is bucked; and Oak Park (specifically ZIP 60301) is one of them.
According to the HomeUnion, the area's school rating – derived from test scores, graduation rates and student-to-teacher ratios – is more than 81.3 out of 100. However, median home price in the first quarter of 2016 was $172,000, making it one of the most affordable neighborhoods in the country with highly rated schools.
To see its peers, check out the table below:
| Metro Area | City | ZIP | School Rating | Median Home Price (Q1 2016) |
| --- | --- | --- | --- | --- |
| Kansas City | Blue Springs, Mo. | 64014 | 88 | $143,000 |
| Indianapolis | Noblesville | 46060 | 85 | $157,000 |
| St. Louis | SW section of St. Louis | 63126 | 96 | $160,000 |
| Philadelphia | Sellersville | 18960 | 85 | $171,000 |
| Chicago | Oak Park | 60301 | 91 | $172,000 |
| Cleveland | Broadview Heights | 44147 | 91 | $179,000 |
| Austin | Central section of Austin | 78705 | 88 | $187,000 |
| Raleigh | Cary | 27511 | 82 | $188,000 |
| Memphis | Olive Branch | 38654 | 91 | $190,000 |
| Atlanta | Buford | 30519 | 87 | $194,000 |
| Charlotte | Indian Trail | 28079 | 82 | $196,000 |
| Dallas/Fort Worth | Plano | 75023 | 81 | $201,000 |
| Houston | Katy | 77450 | 90 | $202,000 |
| Minneapolis | Elko New Market | 55020 | 85 | $209,000 |
| Cincinnati | Loveland | 45140 | 87 | $218,000 |
| San Antonio | North San Antonio | 78259 | 89.8 | $226,000 |
| Tampa | Palm Harbor | 34685 | 81.1 | $246,000 |
| Jacksonville | St. John's | 32259 | 88.3 | $268,000 |
| Milwaukee | Elm Grove | 53122 | 92.3 | $273,000 |
| Denver | Centennial | 80122 | 80.2 | $279,000 |
| Portland | Lake Oswego | 97035 | 89 | $320,000 |
| Seattle | Bothell | 98011 | 84 | $360,000 |
| Orlando | Windermere | 34786 | 81 | $361,000 |
| San Diego | Mira Mesa section of San Diego | 92126 | 89.1 | $397,000 |
| Orange County | Rancho Santa Margarita | 92688 | 89.4 | $425,000 |
| Inland Empire | Rancho Cucamonga | 91737 | 80.7 | $455,000 |
| Los Angeles County | Montrose | 91020 | 93.2 | $490,000 |
| Oakland | Livermore | 94551 | 83.5 | $525,000 |
| Miami | Pinecrest | 33158 | 82 | $570,000 |
| San Jose | Milpitas | 95035 | 80.4 | $590,000 |
| San Francisco | Novato | 94947 | 80.3 | $612,000 |