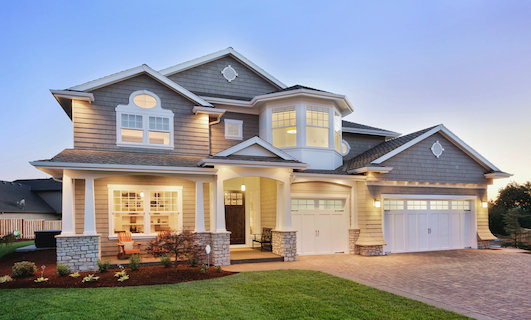 The outlook is good for the luxury real estate market, according to The Institute for Luxury Home Marketing's Housing Report for the first week of April 2016.
Although it's currently a "buyer's market," according to The Institute's "Market Action Index" — scoring a 28 rating, when 30 or higher favors sellers — it is "cool," but not "cold." The 28 score indicates that buyers should expect to find reasonable levels of property selection; the inventory of already-listed homes should last several months at the current rate of sales.
As of April 4, the current National Luxury Composite Price was $1,533,238. In Chicago, it is $1,551,855.
"Our current luxury market is a bit deceiving — it seems to be cooling off, but prices have actually risen over the past year," says Kofi Nartey, a national trainer for The Institute and luxury real estate broker and managing director of The Agency's Beach Cities (CA) office. "It's important to understand the micro-markets and sub-markets in luxury real estate. The factors influencing each market are different. Also, the number of affluent individuals continues to increase, and the desire to buy and sell real estate remains strong."
Another positive sign is the "Asking Price per Square Foot" variable, hovering around $400. That explains the changes in how luxury homes are constructed and valued. The Asking Price per Square Foot metric has been on the rise steadily since summer 2015.
Additionally, starting in late 2015 and through the first quarter of 2016, we continue to see a decrease in "Days on Market." Clearly, luxury homes are getting snapped up faster.
And while the number of homes on the market sharply declined at the end of 2015, the inventory of luxury homes has been growing since early 2016, and is currently 22,959.
So while it's not a hot seller's market and many key metrics were headed in the wrong direction, there are plenty of indications — like the numbers above — to forecast that the luxury home market will be fine.
To succeed in a "cool" luxury market, there are a number of marketing techniques agents can employ. For luxury buyers, reputation is huge – so luxury agents must have an impeccable image both online and off. Every agent should have a page on their website featuring client testimonials and spotless professional social media profiles.
The more data that agents have to analyze and help them identify "real buyers" – a term we use in training to separate the curious from those who act – the more effectively agents can target their efforts. Data can be leveraged in other ways: regular market update reports, like those provided to members of the Institute and distributed both in print and digital formats, help establish agents as an expert on the market and build their brand. The Institute also offers cost-effective custom mini-brochures for individual properties that are updated every time new market data becomes available. They're the perfect souvenir for interested buyers to remember a property by.
---
Diane Hartley is the general manager of the Institute for Luxury Home Marketing