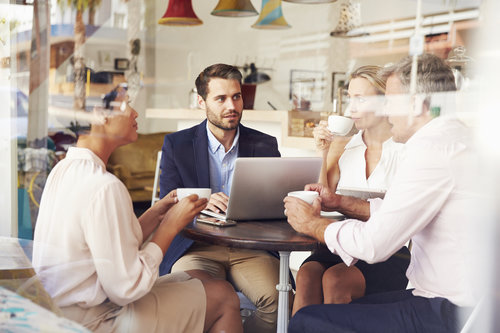 Managing brokers make up a fairly exclusive group of Realtors. According to the 2015 Member Profile from NAR, only 4 percent of Realtors are managers, compared to the 61 percent who are sales agents.
Yet, that 4 percent – which comes out to roughly 46,000 people – represents a considerable increase from 2014, when only 33,000 Realtors worked as managers. Clearly, thousands of individuals are taking the jump to management. Will you be one of them in 2016? Do you have what it takes to be a manager of agents?
Here are seven signs that you are ready:
1. You are Good at Developing Relationships – Much like how agents have to develop relationships with their clients, managing brokers must do so with their agents. Beth Allen-Tiernan, a managing broker with Jameson Sotheby's International Realty, explains that relationships should be the focus of a good managing broker.
"This is a lifestyle profession that's focused on relationships," she says. "The importance of looking at the individual agent as a whole person, not just a sales agent, helps create success and happiness in all areas of their lives."
2. You are Persuasive – Along with developing relationships, persuasion is an important quality for agents and managing brokers alike. However, whereas agents are networking for prospective clients, managing brokers are recruiting new agents for their office. Tricia Riberto, a managing broker for Coldwell Banker, said recruiting is central to managing a prosperous office.
"Being more efficient and knowing the code of ethics for any problems that come up are important, but running a successful brokerage is really about recruiting," she says.
Moreover, your powers of persuasion will appeal to not just any agents, but the most successful agents. Managing brokers are responsible for growing the sales volumes of their office, and recruiting top producers to their team is an integral component to making that happen.
3. You are Relatable – As important as recruiting is to a growing real estate office, those efforts will amount to little if you are unable to retain those fresh recruits, so a good managing broker must oversee a relatable, encouraging environment that keeps agents with their brokerage. In an article for Placester, Matthew Bushery used Google as an example of retention done right: "It's simple, really: those running the company have built in systems that set its workers up for success on a daily basis."
4. You Communicate Effectively – Real estate is, at its heart, an entrepreneurial business, and managing brokers facilitate that spirit through effective communication, both oral and written. By respecting individuality while offering a structured support system that allows agents to flourish, managing brokers can take their agents' business to the next level.
David Bailey, a managing broker with Baird & Warner, put it this way: "You need to be able to listen carefully; to be able to separate fact from fantasy; to know when to take decisive action; and when to be more methodical with your decision-making process."
5. You are Empathetic – Although managing brokers are, as their job title betrays, responsible for managing their agents' personalities and businesses, it is hugely important that they always treat their agents with fairness and empathy, and that means far more than assisting them with their business. Great managing brokers attend funerals and wakes. They are present when agents receive awards. They have congratulatory cards ready for anniversaries. In other words, they are always there for their agents.
6. You Have Sound Business Judgment – Are you as good at balancing spreadsheets as you are at networking? Are you every bit as capable budgeting for marketing and administrative costs as you are delivering listing presentations? Do you pay all your bills on time? A fully rounded business acumen is essential for succeeding in real estate, and as a managing broker, you will have to bring those very same qualities to your administration of agents and their businesses.
7. You are Accountable – Finally, managing brokers are ultimately accountable for the overall success of their office, and the myriad factors that contribute to that success. From recruitment, to retention, to fostering a fun, productive environment for everyone on board, the buck stops with the managing broker, and you should be prepared to take ownership of those qualities.
Interested in learning more about the path to becoming a managing broker? Read our cover story for more local perspectives.