Leslie Struthers
VP of Mortgage Lending
Guaranteed Rate
[email protected]
312.379.3526
Q: My client wants to put in a contract on his or her condominium. How do I know if a condo is warrantable?
A: "Warrantable" means that it meets basic Fannie Mae and Freddie Mac criteria or is FHA approved. Ask the following questions to determine whether the condo will meet lending criteria:
Is there a lawsuit? What's the nature of the lawsuit?

 

In other words, is the lawsuit something that will bankrupt the Association?

 

If so, is the Association's insurance defending them? If the Association is suing a contractor/builder—did they already make the repairs necessary to fix the issue?

 

Or is the building still in need of work?
How many owners are delinquent on assessments? If it's over 15% of the total that's a pending sign of short sales and foreclosures to come, which will clearly impact property value.
What is the percentage of owner occupancy? It is about 50%? (Usually it's around 70% for jumbos.) Please note that while Fannie allows for 50% owner occupancy, some lenders want 70%.
R

egarding budgets: how much should be set aside for reserves? 10% of the assessments should be set aside for reserves.   (For projects of less than four units, this typically is not required.) If enough money isn't set aside, lenders will take a reserve study.  This is basically an audit the Association does of itself to ensure it isn't collecting too much or too little money from the homeowners.

How much space should commercial space take up in the building?  The physical percentage of commercial space in a building must be under 25%. It doesn't matter if you have one Association for the residential space and

one for the commercial, which is how most of the Associations on Michigan Avenue are set up. The physical space taken up by commercial must be under 25%.

Does the building call for two or more units under one PIN?   This is an obscure rule commonly termed a 'blanket mortgage' in lending. Depending on the lender, this can stop a loan approval in a heartbeat. Fannie and Freddie have channels to assist in managing around this.

What about new construction conversions? All common elements must be complete. Lenders are usually looking for 50% to 70% sold as a general guideline. Guaranteed Rate has the ability to close the first unit on a project while getting a great rate.   
If your lender is on the ball, you should have the answers you need by the time the attorney approval period is up.
If the condo is non-warrantable, buyers have several loan program options out there to help them deal with this. Since mortgage insurance companies have the final say, check with your lender for down payments below 20%. 
Q: How much does my client have to put down to buy…
A: Determining your required down payment amount is a key component in the home buying process. The down payment requirement isn't an exact science, as there are many factors which impact the actual percentage.
In general, FHA is the most widely used product, allowing a buyer to put 3.5% down. Additionally, 3% down is available for conventional first time buyers.  Down payments change based on whether or not the property is investor or owner occupied or a second home. Below is a basic list of what's available: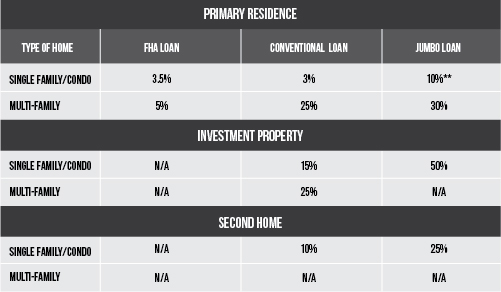 **5% down up to $650,000 and 10% down up to $2,000,000 on a case by case basis.