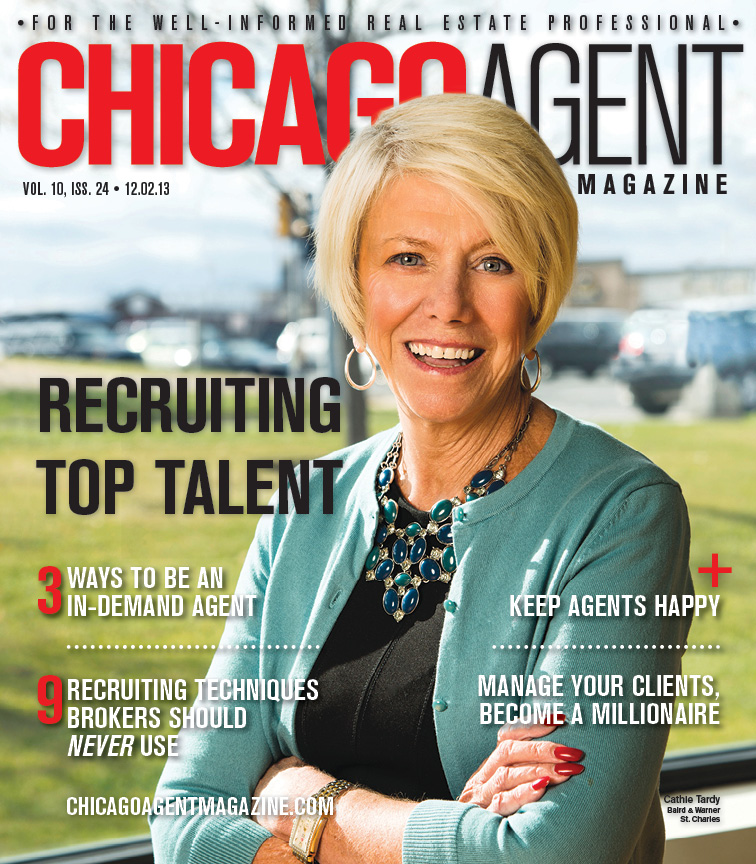 Good agents are dependable, reliable, proactive and diligent; great agents possess those qualities and a few more skills: adapting quickly to shifting priorities, publicly praising others, privately discussing sensitive issues and speaking up when others won't. Managing brokers want those same characteristics in a good agent. But they admit that agents who stand out in this market all share one key trait – passion.
That's been a key quality for Cathie Tardy, who has been the managing broker at Baird & Warner in St. Charles since 1991. Tardy always hires agents who are personable, intelligent, inquisitive and  well-connected. She is more interested in the candidate as a person first, Realtor second. But most importantly, the agent must be passionate about the real estate industry.
"I look to hire people who are committed to this industry, who want to have their own business," she says. "I have to be able to recognize the right people to hire for the office. I have agents who have been working here for 20 years."
What makes agents want to join certain companies over others? In addition to brokerage benefits, the managing broker makes a huge difference; a good managing broker is critical to the overall environment of an attractive workplace.
Tardy not only goes after agents who exemplify what she's looking for in an agent, but goes one step further and takes an interest to attract them to her office. Genuinely, she wants to know how her agents are doing, how their family is doing and how their business is doing.
"I recognize my agents every day," she says. "I have agents who live far away and contact them regularly to check on them. When an agent makes a sale, they get a call from me or a handwritten note."
This business is all about the real estate agents, and the more you support them, the more you get back from them. You have to lead them. In the same way that you ask them to be honest and ethical, you have to be the same. It's the one part of the business that hasn't changed.