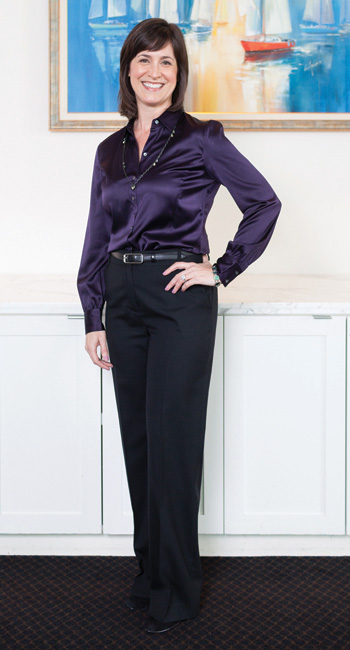 Number of years in real estate: Two as a Realtor, 15 years of sales and managing experience.
Describe your look: Classic.
What do you consider a "fashion don't"? Buying clothes I never wear.
What is your favorite piece of clothing? My "go-to" – a black cashmere turtleneck.
What do you consider a must-have accessory? A good pair of everyday earrings.
What is a fashion crime you have committed in the past? A red dress I wore all the time in high school – my friends still joke about it.
Where are your favorite places to shop? J. Crew, Anthropologie and Ann Taylor.
What, besides your wardrobe, completes your look? A good attitude!
Shirt: Ann Taylor
Pants: J. Crew
Belt: Banana Republic
Shoes: Calvin Klein
Bracelet: Vintage
Necklace: Ann Taylor
SPECIAL THANKS TO The HOTEL ARISTA FOR THE LOCATION OF THE PHOTO SHOOT