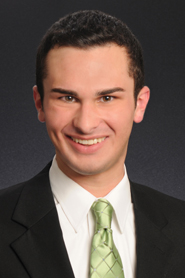 Joseph Halloran
Coldwell Banker Residential Brokerage
Joseph Halloran was raised in the Chicago suburb of Park Ridge, and graduated from Maine South High School. Unlike most agents, Halloran has wanted to be a real estate agent his whole life, even making clay "for sale" signs in his elementary school art class.
In addition to being a full-time real estate agent, he is currently a student finishing his degree in French language and literature at Northeastern Illinois University. He began his real estate career this year as a leasing agent in Chicago's Lakeview neighborhood.
After a few months of leasing in the city, Halloran moved to another leasing firm in the suburbs, and eventually to his current home, Coldwell Banker's Schaumburg office. Halloran is also licensed in Wisconsin and feels that his experience in multiple markets has contributed to his rapid success in the industry. To further his real estate knowledge, Halloran has also earned his real estate appraiser's license.
"Winning 'Rookie of the Year' means a lot to me, because it is proof that my hard work has paid off. When I began my career this year, I was anxious to dive into the industry because real estate has always been my passion. Little did I know, the beginning of my real estate career would be much different than I had imagined. It seemed like no one was showing up for their appointments, those that showed up were wasting my time and other agents weren't taking me seriously. But I wasn't going to let this stop me from pursuing my passion. With my new mindset, I got down to business by asking questions of top agents, even shadowing some, and I learned how to incorporate their behaviors into my business, since I knew their systems worked. Now, I am at a point in my career where I am happy and excited for work every day. This award is proof to me that as long as I stick it out and toughen up, everything will work out. I'm glad that I've found my niche in life at such a young age, and I can't wait to see what the future holds for me and my real estate career."
Runners-Up:
Corky Peterson, Prudential Rubloff; Mike Koerner, Prudential Rubloff