Lead Quality
Chris Pequet, a broker with Hinsdale's Crawford Group Sotheby's Realty, said that the leads coming from the three sites aren't always solid, though she did say that the leads generated from Realtor.com tended to be the strongest.
The key to making a Trulia, Zillow or Realtor.com lead work lies in the follow-up, Pequet said. That's something, of course, that holds true for all leads, whether they're sent to agents from their brokerages, past clients or mortgage loan officers.
Online leads, though, have to be handled especially quickly, Pequet said. Visitors from Trulia, Zillow and Realtor.com expect agents to call them back quickly when they send these real estate professionals email messages, Pequet said.
"Everyone expects immediate gratification these days," Pequet said. "If they don't hear from you soon, they're calling someone else. I try to get back to people as quickly as I can. When I do get a call or email from one of my online listings, I get back to those people right away."
Wirth describes the leads that she receives from all three sites as being like the cold calls she'd receive during her earlier days in the real estate business.
Real estate agents would take cold call leads when they'd sit in their offices and wait for consumers to call. Often, these consumers would be just starting to think about buying a home and only wanted to ask real estate agents a few quick questions. Other cold calls would come in from serious buyers or sellers who were ready to work with a real estate agent that day.
The same holds true for the leads that Wirth receives from Zillow, Realtor.com or Trulia: some come from buyers or sellers who are ready to make a move now or relatively soon, at least. Others come from consumers who aren't ready to buy a home or sell their residences for at least a year. Like Pequet, Wirth says that the key to converting leads from Realtor.com, Trulia and Zillow is to respond to these leads quickly.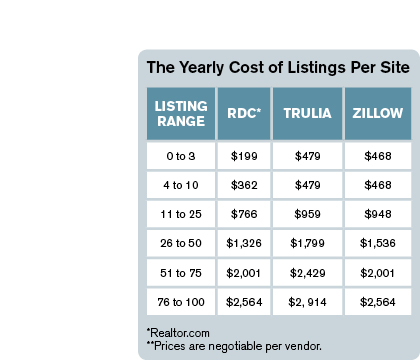 "A quick response is what the consumer is looking for," Wirth said. "We have had some good success with leads that came to us from the online sites, but some are better than others."
Haran also said that he hasn't seen much difference in the quality of leads from the three sites. He, too, admitted that the leads from all three sites could be, as he said, "tricky things."
He pointed to patience as the key to making online leads, whether from Trulia, Realtor.com or Zillow, work.
"In today's economy, real estate agents are working to make money now," Haran said. "A lot of online leads, though, have a long incubation time. Some people have no problem filling out a lead form when they have a simple question and have no plan to buy for months. Agents have to be patient, and they have to be willing to give that information and stay in touch afterwards."
This requires a good contact-management plan, Haran said. Again, this isn't much different from how real estate agents turn any lead, online or offline, into future business.
"In our market, the amount of rentals has risen," Haran said. "The goal of following up on some of these online leads it to take these rentals and turn them into buyers in the next couple of years. That goal is crucial to the agents who want to stay in this business."