With decreased volume and shrinking paychecks, even the best offices are having trouble keeping and growing their agent base. Across Chicagoland, only 9.8 percent of offices with more than 10 agents in the fourth quarter of 2010 have managed to maintain or grow their agent workforce. This leaves 90.2 percent of offices that have lost agents and gained more empty desks.
However, there were offices out there that were able to buck the trend and add agents. Here are the top 10 offices that were able to add the most agents since the fourth quarter of 2010. To be considered, brokerages had to have at least 10 agents at the end of 2010, therefore, new offices weren't included in the data. The top offices' percentage of growth from the fourth quarter of 2010 is displayed.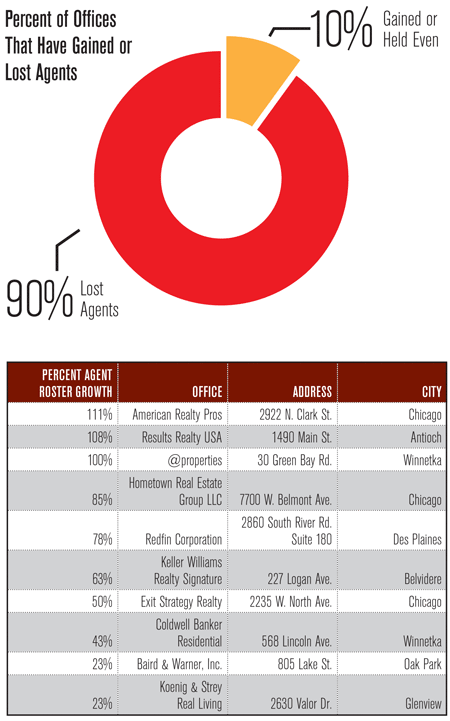 Leap Real Estate Systems is the leading provider of online solutions for Chicagoland's progressive agents. With over 20 years of software development experience and a keen understanding of the real estate industry through analytics, our mission is to create innovative products that improve seller communication and encourage data-driven decision making. For more information on our company and services, visit www.LeapRE.com.