FHA-approved buildings are now an advantage.
By Peter Ricci
Federal Housing Administration (FHA) loans have undergone somewhat of a resurrection in the past four years, but like the phoenix, its rise may be temporary.
The FHA loan, says Simon Stein, a sales manager with Wintrust Mortgage in Chicago, used to be the "kiss of death" for any downtown building project, the one financing option agents never offered to prospective homebuyers. The reason for the loan's negative reputation stemmed from its very purpose: to allow lower income individuals the chance to become homeowners.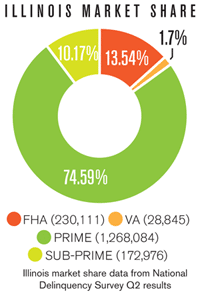 Because FHA loans became synonymous with inexpensive and lower quality housing, no builder or agent would dare associate his or her new construction property with an FHA loan. And to top it off, the appraisal process for a home to be certified for FHA financing is laborious, with FHA representatives from the Department of Housing and Urban Development scrutinizing numerous aspects and dimensions of the property. Stein said that nitty-gritty details, down to even the width of the staircases, are considered during such an appraisal. All those elements motivated players in the real estate community to steer clear of FHA financing – until the market started to slow down.
Once the home equity loans began drying out, and home financing became a trickier and trickier prospect, FHA loans suddenly became popular, Stein said, and the "ugly duckling" of the mortgage industry became a financial product of significant appeal. "Now you see high-end developments, brand new and out of the box, with big banners on the side of the building saying, 'FHA Approved,'" Stein said, adding that in some cases, FHA loans are "the only way to get some of these units sold."
The newfound popularity of FHA financing, though, is a temporary reaction to market trends, not a permanent shift in the mortgage markets, Stein said. "There's always the pendulum from conservative lending to easy money, and right now, we are in a tight money (market). It will loosen up … and once we see credit policies lightening up, I think you're going to see FHA become less popular," Stein said.