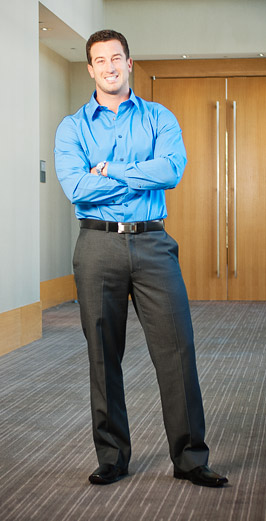 Years in real estate: Eight.
Describe your look: Sticking to one look is boring! I like to have variety.
What do you consider a fashion don't? Never wear dirty shoes. Believe it or not, that's the first thing people look at.
What is your favorite piece of clothing and why? Definitely a V-neck T-shirt. You can dress it up or dress it down.
What do you consider a must-have accessory? A David Yurman dog tag. If you can't see it, I still know it's there.
What is a fashion crime you have committed in the past? I wouldn't say it's a fashion crime, but I'm not going to lie, I tried to rock the red leather "Michael Jackson" jacket back in the day. Now that I look back, it definitely wasn't a "do" for me.
Where are your favorite places to shop? Anywhere from Nordstrom to Target. Yes, Target. They have great V-necks.
What completes your look? Staying confident in everything I pursue.
Suit-INC
Shirt-Express
Shoes-Kenneth Cole
Belt-Aldo
Watch-Bulova
Dog Tag-David Yurman
THANKS TO HOTEL INTERCONTINENTAL O'HARE FOR THE LOCATION OF THE PHOTO SHOOT