Doug Ayers, president and CEO of Koenig & Strey Real Living, passed away June 10 at the age of 50, after fighting a heroic battle with cancer. Ayers was beloved and admired by colleagues at Koenig & Strey, and was well-respected in the Chicago real estate community and beyond.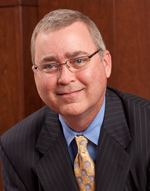 "Doug was an inspiration to me and to everyone at Koenig & Strey," said Nancy Nagy, senior vice president, Gold Coast branch manager and interim chief operating officer, in a statement. "Though real estate was his passion, his gift was the ability to encourage and develop people. He helped us to be better, kinder and more global in our thinking, lessons that reached far beyond real estate."
Ayers entered the real estate business shortly after college 1981 as a sales associate for Burnet Realty in Minneapolis. He described his approach as "coaching people to do a little better than they can do it on their own," according to a statement. He was promoted to leadership roles in management, training, and development. Following the acquisition of Burnet by Coldwell Banker in 1998, Ayers became president and chief operating officer for their Chicago and Milwaukee divisions. Under his leadership, the organization grew to 67 offices, 4,700 sales associates and more than $17 billion in residential real estate sales.
In January of 2007, Ayers was named president and CEO of Koenig & Strey. One of the driving principles of his business strategy was to make decisions that "do the most good for the most people." Ayers grew the company by attracting the most talented agents as well as through mergers and acquisitions. Through his strong leadership, Koenig & Strey became an attractive company that was acquired by HomeServices of America, the nation's second largest full-service independent residential real estate brokerage firm.
Ayers' belief that people should "be as kind as you can be, and then be more kind" was evident in the way that he treated everyone around him from agents and staff to panhandlers on the street.
Even as he led large companies, Ayers was "a tireless advocate for the profession," according to a statement, and worked with the local boards and state and national leaders to improve the real estate business environment. He has served on the National Association of Realtors Large Broker Advisory Board, meeting with the Federal Reserve Board in an advisory capacity. He also participated in the National Association of Realtors Presidential Advisory Group to study and advise them on the future of the Multiple Listing Service.
Ayers is survived by his wife Lisa, and children Rose, Preston, Taylor and Elizabeth.