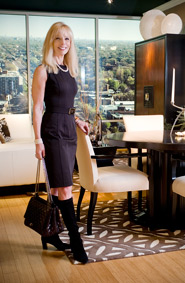 Realtor, Baird & Warner, Highland Park
Number of years in real estate: 21
Describe your look: Tailored and understated
What do you consider a "fashion don't"? Dressing inappropriately for your age
What is your favorite piece of clothing and why? Lululemon work-out clothes. They're comfortable, and having time to wear them is a luxury I don't often get.
What do you consider a must-have accessory? A good bag and good shoes are always important ­— whether it is a briefcase, handbag or a tote.
What is a fashion crime you have committed in the past? In the past, I would buy more of the trendy styles, and now I am focusing on investment-quality pieces that last throughout many seasons and take you to a variety of events.
Where are your favorite places to shop? Neiman Marcus and Saks Fifth Avenue
What, besides your wardrobe, completes your look? A positive outlook
Dress-Prada
Boots-Robert Clergerie
Bag-Chanel
Necklace-Southsea pearls
Bracelet-Southsea pearls
SPECIAL THANKS TO The Winthrop club Condominiums FOR use of their sales center for our PHOTO SHOOT.