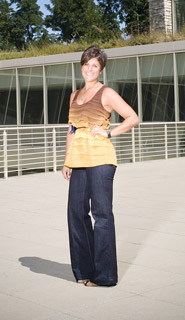 Real Estate Consultant -@properties
Lincoln Park
Number of years in real estate: 8
Describe your look: Clean and classic with a little spunk
What do you consider a "fashion don't"? Something you are not comfortable wearing. And overalls!
What is your favorite piece of clothing and why? My jeans- I live in them. They can be dressed up or down and most everything goes with them.
What do you consider a must-have accessory? A watch
What is a fashion crime you have committed in the past? I'm cringing- it was a perm in eighth grade, tragic!
Where are your favorite places to shop? I shop anywhere from great little boutiques to Target, and I am a sucker for a good sample sale.
What, besides your wardrobe, completes your look? A good attitude and a smile. If you aren't pleasant to be around then no one is going to care about what you're wearing. A great pair of shoes won't hurt either.
Tank-Madison Marcus
Jeans-David Kahn
Belt-J.Crew
Watch-Burberry
Shoes-Oh Deer
Necklace-Tiffany & Co.
SPECIAL THANKS TO The Peggy Notebaert Nature Museum FOR THE LOCATION OF THE PHOTO SHOOT.